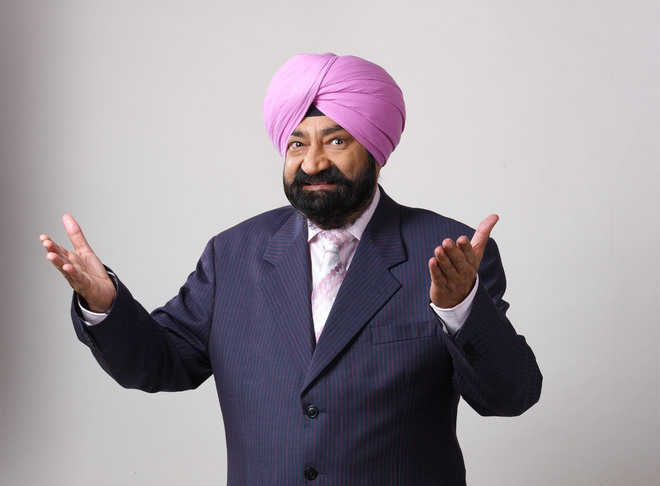 Mona
The 'King of Comedy', Jaspal Bhatti still rules his fans' hearts. A pioneer in his field, his satires were clean, to the point and timeless. Be it parading Savita Bhatti with a garland of tomatoes at Sector 17 over rising costs or driving her around in a rickshaw with gamlas to be gifted... his acts strike a chord till date. On his death anniversary, comedians share their impressions of the master satirist.
Future thought
I have huge regard for Bhatti sir; it was with him that I first faced the camera formally. Everyone knows him as the pioneer, master of comedy, but one thing that not many know about him is that he could foresee things. Not only did he tell me so many things that came true in my life, he even said Narendra Modi would be the future Prime Minister of India after seeing him work in Gujarat.
– Sunil Grover
Versatile personality
I absolutely admire Jaspal Bhatti ji for his versatility — writer, actor, director — he changed roles with such ease. The beauty of his acts is that one could watch them with parents or children and never face an awkward moment. He could very well place a satire within a satire. What brilliance of writing. Very humbly I state that the biggest compliment that I ever got was from Savita Bhatti ma'am when she said that I reminded her of Jaspal sir.
— Amit Tandon
Amazing wit
Gem of a person he was and how witty! I remember once he asked me to accompany him to wish Nek Chand ji on his birthday. Just as we left, he tossed away the bouquet we had got, went to his terrace, picked up all broken bulbs, tiles, tube lights and got them gift wrapped. So right in Rock Garden, Bhatti gave me tips on how to address Nek Chand and bring him out of office to take the gift. All went like a breeze and Nek Chand ji was only too happy at that thoughtful 'waste' gift!
— Vinod Sharma
Simple man
Bhatti Saheb ruled Doordarshan with his shows. Even his one-liners were extraordinary. And, what a simple man; I worked with him in a few films, sad that he left us too early. — Johnny Lever
Ahead of his times
Not only was he a pioneer in the field, his satires are even more relevant in the current times. What's commendable is that he did reach out even when there wasn't any social media. I distinctly remember how he would go around with Savita ji in tow, sometimes mouth taped-shut or she giving away gamlas as he was riding the rickshaw. And the talent he nurtured — BN Sharma, Gurpreet Ghuggi and the late Vivek Shauq became stars in their own right with his touch.
— Pritish Narula
Adorable couple
Jaspal sir and Savita ji made the most adorable couple. So powerful was his writing and so hard-hitting his satires; his jokes haven't watered down one bit.
— Abhishek Walia
Evoked laughter
I am a huge fan of Bhatti sir on how he could evoke laughter without making anyone angry or upset. He made sure that while delivering any message, he could get critics also along with him.
—Appurv Gupta
mona@tribunemail.com
Top News
Health Ministry launches probe into four alleged substandard...
Addressing a rally, Shah asks whether terrorism has ever ben...
MEA had reacted sharply to Ilham Omar's visit to PoK
Development in Himachal possible as people voted BJP to powe...
The Ministry of Defence spokesperson from Tezpur says the mi...