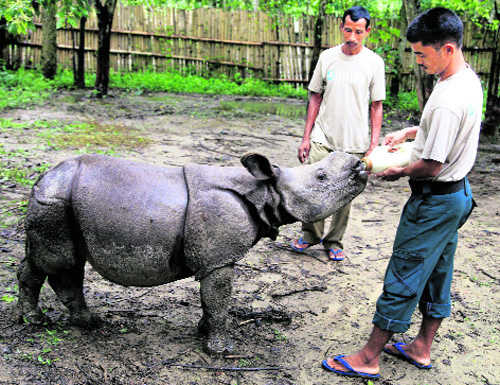 Bijay Sankar Bora
Tribune News Service
Guwahati, February 3
Assam Chief Minister Tarun Gogoi said a Rhino Protection Force with more than 1,200 personnel would be raised to protect one-horned rhinoceros against poachers. Besides, the National Investigation Agency's (NIA) help would be sought to bust the international rhino-poaching racket.
Attending a review meeting on the anti-poaching measures and other related issues at the Kohora range of Kaziranga National Park (KNP), Gogoi said his government had already sent a proposal to the Union Minister of Environment, Forests and Climate Change and hoped that the new force would be raised soon.
Gogoi said such a specialised force would facilitate use of modern technology to curb the menace of poaching. To upscale the anti-poaching infrastructure, high-end equipment such as night vision devices, thermal scanners, surveillance cameras and GPS would be installed at the earliest.
The CM assured that fund would not be a constraint for protection of rhino.
Gogoi asked the Kaziranga park authorities to take the help of the NIA to deal with the rhino poachers and bust its clandestine trade routes across inter-state and international borders.
Poachers have killed at least five rhinos in the KNP so far this year, while over 40 rhinos were killed last year.
Gogoi pledged that his government would provide modern arms and fighting gears to the frontline forest guards in Kaziranga Park by amending the existing law provisions. He also assured to take up the matter of unmanned aerial vehicle (UAV) flying in Kaziranga National Park with the Defence Ministry and the DG, Civil Aviation.
The Chief Minister's Gallantry Award would be instituted for the forest guards showing exemplary services in curbing poaching of rhinos.
Besides, Chief Minister's Awards for Wildlife Conservation would be instituted from this year for exemplary services rendered in the field of wildlife conservation and anti-poaching activities.
He announced that he would soon constitute a development authority for the Kaziranga Landscape under his chairmanship to address the issues of conservation and development. He said the local people should be provided green development opportunities and livelihood options in tune with wildlife conservation.
He said a state-of-the-art interpretation centre and wildlife museum with modern 3D shows, tea tourism and tea museum would be set up in Kaziranga Park.
Top News
Complete normalcy has not been restored along the line of ac...
Temporary measure aimed at solving labour shortage
MEA asks youth not to fall for lucrative IT jobs in Thailand...
Searches held at various locations of liquor baron Deep Malh...
On May 9, a rocket-propelled grenade was fired at the Punjab...