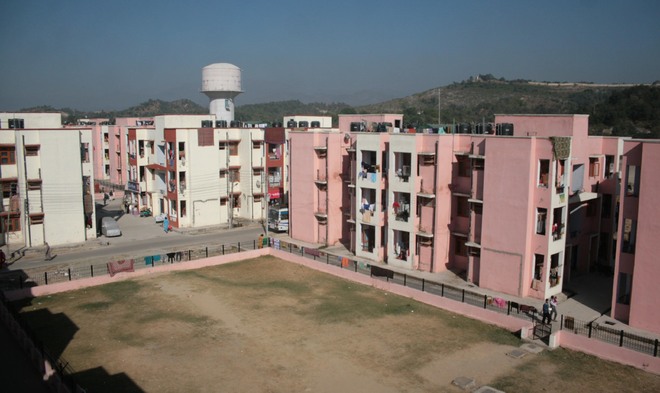 Tribune News Service
Jammu, November 18
A move that may threaten the social fabric, several "communal enclaves" have started coming up in the city and its periphery with builders making allotments purely on "religious lines".
While developers of these enclaves have been issuing advertisements on a regular basis, the state government seems to be unmoved by the "emerging threat" to communal harmony in the relatively peaceful region. Sources in the administration say around 10 enclaves based on "religious and communal lines" have already come up or are being set up in the vicinity of the winter capital.
Developers are even promising people from a particular community to get their plots registered within 15 days, indicating at a "nexus" with government and revenue officials.
Yasir Malik, a developer in the Sunjwan area, says around 400 plots in his colony are up for grabs for people purely on a "religious" basis.
"We had around 400 plots in the Sunjwan area. Most have already been sold and only 15 plots are left. Barring 5 per cent plots, all have been allotted to members of the Muslim community. We have taken special care of the religious sentiments of allottees," the developer says. He says they are in the process of developing another "big" colony in the Bantalab area meant exclusively for members of the Muslim community.
"We have demarcated nearly 1.5 kanals for a mosque inside the colony. A special provision has been made for those who wish buy plots near the mosque," says Malik.
"Communal enclaves are being set up in the Chowadi, Bajalta, Sidhra and Bantalab areas. This is not only illegal and unconstitutional but can also alter the secular social set-up of the region. A deliberate attempt is being made to change the demography of Jammu district," says a senior official of the administration.
People are being lured "on religious lines", which may further create a wedge among communities in the communally sensitive Jammu and Kashmir, he adds. Simrandeep Singh, Deputy Commissioner of Jammu, said he was not aware of advertisements appearing in local newspapers but would look into it.
Mubarak Singh, vice-chairman, Jammu Development Authority, called the move of private developers "unconstitutional". "We grant building permission to people only after they fulfil the guidelines. The setting up of colonies on religious lines is unconstitutional," he said.
Top News
The saffron party with a vote share of nearly 54 per cent is...
Final Tally: Congress 40 | BJP 25 | Independent 3
Had earlier called all state MLAs to Chandigarh for strategy...
Leading: BJP 158; Congress 16; AAP 5; Others 3
Congress wins 40 seats in 68-member House