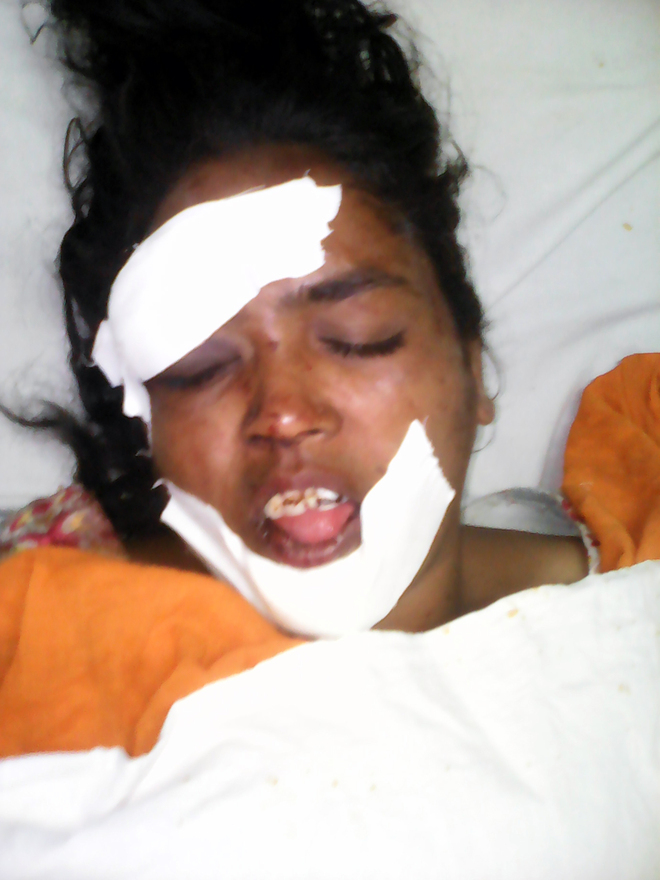 Kulwinder Sandhu
Tribune News Service
Moga, April 29
A 15-year-old girl died and her mother was seriously injured on Wednesday evening when they were forced to jump off a moving AC bus, belonging to the Orbit bus service, to protect their modesty.
The family has filed a complaint with the police. The bus has been impounded. The incident took place on the Moga-Bathinda highway, about 10 km from the district headquarters.
(Video: Girl jumps off bus to escape molesters, dies)
According to the complaint, Shinder Kaur, a resident of Landeke village, along with her daughter Arshdeep Kaur and son Akashdeep Singh studying in Class IX, took the bus in the evening from Moga-Kotkapura bypass for Gurusar Kothe village to visit her parents. When the bus crossed the city, some youths in the bus started molesting the girl in front of her mother and brother.
The girl and her mother raised the alarm and complained to the bus conductor. The conductor didn't act and reportedly joined the youths who were passing lewd comments at girl.
When the mother of the girl asked the driver to stop the bus, he — instead of stopping it — increased its speed. The woman and her daughter shouted for help when the bus crossed the toll barrier near Gill village. However, none came to their help.
Left with no choice, the mother-daughter duo jumped off the moving bus.
Arshdeep died on the spot while her mother was seriously injured. The injured woman was rushed to the district hospital where she is undergoing treatment.
Leaving the bus on the roadside, the bus driver, conductor and helper fled from the spot. Later, the bus was taken to the Baghapurana police station.
SHO Avtar Singh said that the investigation was in progress and legal action would be taken against the accused as per law.
SSP Jatinder Singh Khaira confirmed that the bus belonged to the Orbit bus service. He said that the injured woman was conscious. "I have talked to her. She will record her statement. We will take legal action accordingly," he said.