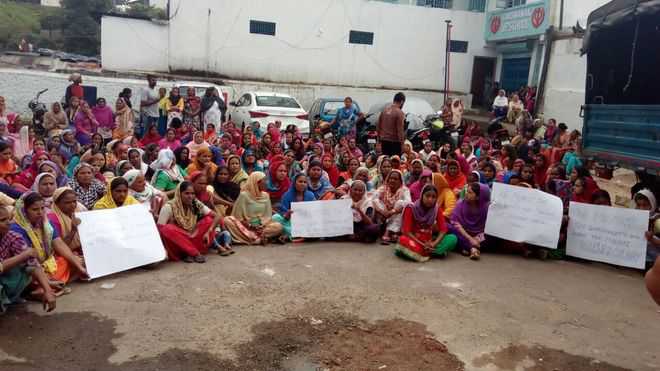 Bijay Sankar Bora
Tribune News Service
Guwahati, June 20
Women from the Punjabi Lane area in Shillong today sat on a silent protest even as a team of the Land Record and Survey Department undertook a survey to resolve the long-pending issue of relocation of residents of the colony as per the demands of local groups.
Residents of the Sikh colony located in the main business hub of the city have already stated that they would not leave the place under any circumstances as their forefathers had settled there over a century ago.
The survey was held on the instructions of a high-level committee formed by the Meghalaya Government after the recent violence in Shillong. The panel has been told to look into various aspects of relocating Punjabis to resolve the issue that came into limelight once again after local tribals went on a rampage on May 31 and June 1.
A delegation of the Delhi Shiromani Akali Dal (SAD) on Tuesday met Deputy Chief Minister Prestone Tynsong, also the panel chairman, in Shillong and requested him to resolve the matter with a humane touch.
After visiting the Punjabi Lane area, Delhi SAD president Paramjit Singh Sarna said the government should go for rehabilitation of the residents on the present site instead of relocation. "The government can develop the area and provide proper accommodation to the residents instead of relocating them... The best solution is rehabilitation and not relocation," said Sarna.
Tynsong said the issue should not be seen as one between tribals and non-tribals as for the government, all citizens were equal. "The government is going all out to take care of them," he said, maintaining the committee wanted a permanent solution.
Top News
Launches attack against nepotism and graft; seeks collective...
Says Congress will oppose attempts to put leaders like Gandh...
Special CBI court in Mumbai on January 21, 2008, sentenced 1...
Chandrashekhar Harbola was part of a 20-member troop that wa...
India's first intranasal Covid vaccine proven to be safe, we...