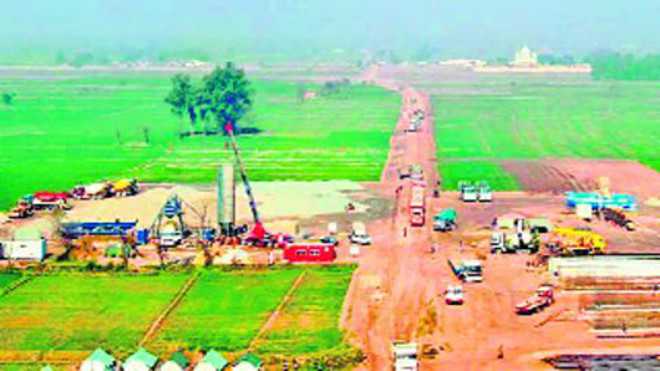 Ravi Dhaliwal
Tribune News Service
Gurdaspur, August 8
An artificially created scarcity of mining material, including sand and gravel, has forced the company engaged in building the 4.5 km-long Kartarpur corridor to halt construction even as the October 31 deadline is fast approaching.
The work had been entrusted to a Ludhiana-based firm, Ceigall India Limited. A senior officer of the firm said: "For the past 10 days, shortage of material has meant we cannot move ahead with any activity. We are trying to do with whatever resources we have at hand, but work related to 'aggregate', which is sand and gravel mixture, is not being undertaken."
Mining material for the corridor is being procured from quarries in the vicinity of Pathankot. Mining Officer Gagan said he was in talks with company officials to ensure work was resumed at the earliest. Sources say sand and other material is procured from crushers. Groups of people with political backing at various points near the riverbeds demand "cess", which in local parlance is also called 'goonda tax'.
Owing to this unauthorised collection of this tax, sand prices have skyrocketed, adversely impacting demand. Subsequently, a majority of the crushers have reduced their capacity. Many of them are even finding themselves on the verge of closure.
"If state government does not look into our grievances and abolish 'goonda tax', we may have to shut shop. Politicians engaged in this activity should be put behind bars," said a unit owner. Deputy Commissioner Ramvir said no such cess was being collected. "I am probing the matter. Any such collection is illegal and action will be initiated against all culprits," he added. SSP Deepak Hilori said they had not received any complaint in the matter so far. "Action will certainly be taken if such a thing is going on."
Teams of goons, allegedly backed by local politicians, gather at exit points of quarries and collect "tax" at sites along the Mirthal road, Sundarchak road, Narot Jaimal Singh road, Madhopur road and Kirrian road, issuing a "receipt" that neither carries any signature nor an official stamp.
"With 'tax' being levied at Rs 4000-Rs 5000 per truck, the prices of sand and gravel have shot through the roof," said an owner of a crusher.
The firm engaged by the authorities for the Kartarpur corridor procures material from suppliers, who get it from mining contractors. "The firm and suppliers had initially agreed on a fixed price. But the supplier, owing to the 'goonda tax', wants the firm to pay the difference. We are trying our best to sort out the issue," said a mining official.