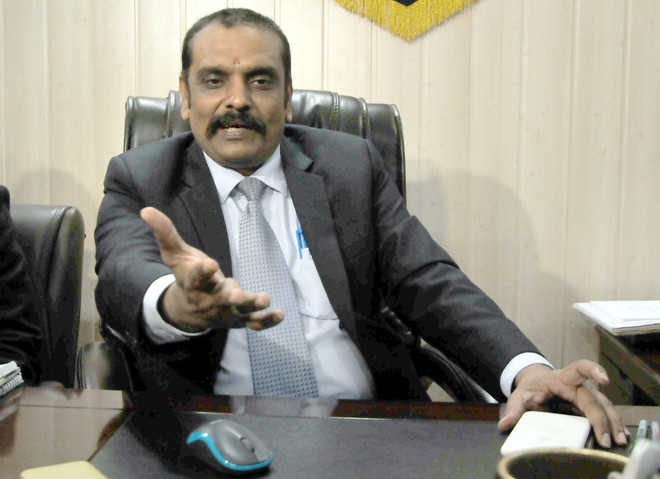 Tribune News Service
Amritsar, January 27
To evade arrest, the former SSP of Moga Charanjit Sharma was attempting to leave the country. He also showed resistance when the police team went to arrest him.
This was revealed by Inspector General of Police (IGP) and a member of the SIT, Kunwar Vijay Pratap Singh, here today.
Two days after the Punjab and Haryana High Court rejected the plea for a CBI probe and directed the SIT to conduct a fair and speedy investigation into the sacrilege and police firing cases, Sharma was the first officer to have been arrested.
Sharma (now retired) was one of the accused police officers whose names were included in the FIR dated August 11, 2018, on the recommendation of the Justice Ranjit Singh Commission in a case of firing on Behbal Kalan protesters in which two youths were killed on October 14, 2015.
Bikramjit Singh, now Assistant Commandant, 4th Commando Battalion, Mohali, Inspector Pardip Singh and Sub-Inspector Amarjit Singh are the others who were booked under Sections 302, 307, 34 IPC and the Arms Act at the Bajakhana police station.
Talking to The Tribune, Kunwar Vijay Pratap Singh said a notice was served upon Sharma to join the investigation on January 29, but he kept avoiding it.
He claimed that had there been a delay of a few hours, he would have fled the country. "Even during his arrest, he retaliated and tried to escape by scaling a wall, but sustained minor injuries," he said.
The IGP refused to divulge the details of the investigations regarding the questioning of Sharma or whether the other police officers named in the FIR would also be arrested. "At the moment, nothing can be disclosed. I can assure that justice will prevail and a time-bound probe is being conducted in a fair and unbiased manner. Persons whose role is under the scanner in sacrilege and firing cases can be asked to join the investigation at any stage," he said.
Sharma was allegedly leading a police team that opened fire at the anti-sacrilege protesters at Behbal Kalan.
---
Take probe to logical end: Badal
Barnala: Former CM Parkash Singh Badal on Sunday said the SIT to probe the sacrilege and police firing cases was formed by his government and it must reach to the bottom of the issue. "We had formed the SIT as we wanted action against persons involved in the sacrilege cases. The Congress government has not formed any SIT and the same panel is probing the matter," claimed Badal, who was here to attend the death anniversary function of former CM Surjit Singh Barnala here. TNS