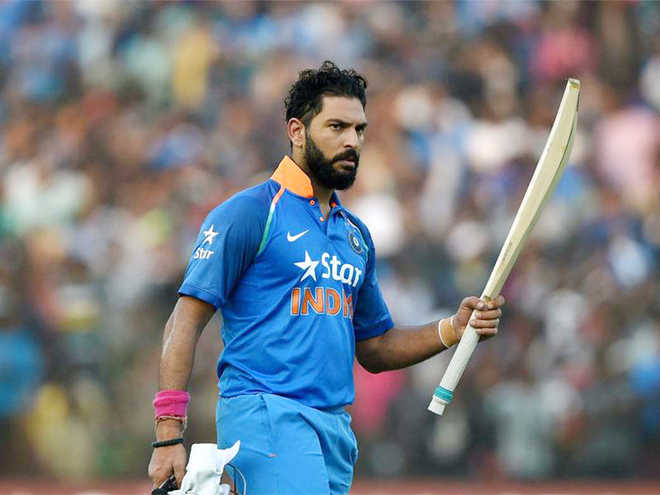 Tribune News Service
Birmingham, June 14
"Sir, zindagi bach gai hamari, that's important," says Yuvraj Singh on the eve of his 300th One-day International.
For Yuvraj, cancer was a bolt from the blue — a strong, strapping lad, who'd just starred in his country's World Cup win, surely couldn't be afflicted with cancer, people said. There's social stigma that comes with cancer — people often say of cancer patients: "He's such a nice man, how is it that he got cancer?" It's almost as if this specific disease is a curse. Yuvraj, speaking a day before playing what would be his 300th ODI, said he wants to remove this stigma that's attached with cancer. Excerpts:
Seventeen years from your debut, do you see yourself as a role model on and off the field?
I don't know about being a role model, but it's a big achievement for me, to play 300 games in my career. It's a huge honour. When I started playing for India, I was happy with just one game for India. But I've come a long way. There have been ups and downs, and there is much I've gone through, and I still managed to get to 300. At one stage I was thinking if I was ever going to play another game... So yeah, I've come a long way
What does this game, your 300th, against Bangladesh, mean to you?
As I said, it's a big achievement for me, but I'm not going into the match with the idea of doing something special. The team is much more important than my 300th game. We need to focus on the semifinal and our plans. Bangladesh have been playing really well in the tournament and we want to work towards our plans, to win the game, rather than focussing on my 300th game.
Over the years, what changes have you observed in ODIs and Indian cricket?
I think there's been a big transformation. Learning from our seniors, what we've learnt, we're trying to imbibe to the younger guys. The game has evolved, the fitness levels have evolved. The game has become much more fast-paced. The guys who're coming into the team are much fitter, they have much more knowledge about eating, about training. And they're learning quickly because they get exposed to IPL as well, which is a big tournament with international cricketers. The game has evolved big time.
What's the biggest quality in you in terms of playing over the last 17 years?
I don't know... I think the biggest quality would be to never give up, keep pushing no matter what obstacles come in life. I think that's what I can give to the younger guys — never back down. Keep on working the same way whether you are having a good time or a bad time. Be consistent and be persistent.
It's difficult to play for India, but even more difficult to make comebacks?
Yes, I think to play for India is not that difficult, but to sustain it is tough. So I think you need to have the determination to never give up, and believe in yourself. Self-belief is very important because when things are not going well for you, people have their own opinions. At that time it's very important to believe in yourself — that you've done it in the past, and now is the time you can do it again.
What's your long-term goal?
I don't know actually. I've been very blessed to come and play for India again. I have a lot of blessings of the people. Let's see how long I can... As long as I'm performing and doing well, I'd like to play. Hopefully, a few more years.
You're looked at as not merely a successful cricketer but also a survivor...
Definitely, I'd like to be seen as a fighter. A lot of people can actually get inspired (from Yuvraj), to not give up. Cancer is something which I talk about a lot. A lot of people think there's stigma with cancer. So I can motivate a lot of people to come out of it, and to come back to where they belong.
---
5Yuvraj will be the fifth Indian cricketer — and 19th overall — to reach the landmark. Tendulkar, Dravid, Azhar and Ganguly are other Indians to have played 300 ODIs.
---
ODI highlights
7 Number of Man of the Series awards he has won. Among the Indians, he's joint-second with Ganguly behind Tendulkar's 15.
---
Player of the tournament
He won the Player of the Tournament award in the 2011 World Cup, helping India win their second Cup.
---
His favourite knocks
2011 World Cup quarterfinal against Australia
Yuvi sclaped the wickets of Brad Haddin and Michael Clarke with his left-arm tweakers (2/44) and then scored an unbeaten 57 runs off 65 balls to take India into the semifinals.
84 against Australia in debut tournament
The 18-year-old left-hander made his debut against Kenya in Nairobi but did not get to bat. Four days later, playing against Australia, Yuvi scored a quickfire 84 in 80 balls, including 12 fours. Yuvi effected Ian Harvey's dismissal with a brilliant catch and then ran out Michael Bevan (42). India won by 20 runs.
NatWest Trophy final against England
Chasing 326 runs and down 146/5, Yuvraj Singh and Mohammad Kaif (87*) put on a 121-run partnership for the sixth wicket to help India win the final of the tri-series against England at Lord's.
Debut: Oct 3, 2000 I Mat: 299 I Runs: 8622 I Wickets: 111