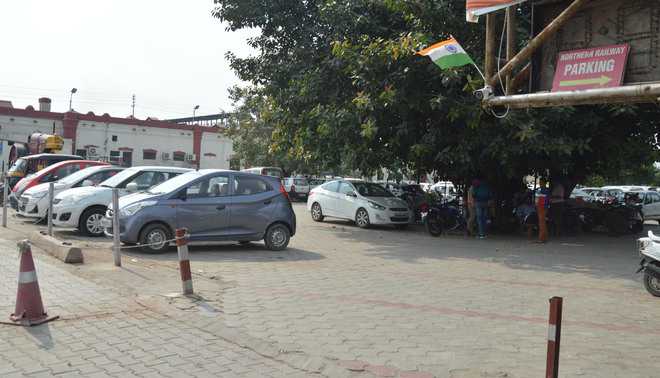 editorial@tribune.com
Kuldip Bhatia
Ludhiana, September 10
It is not always that one goes to the railway station to drop or pick up friends or relatives but at such occasion be prepared to shell out Rs 50 as car parking fee even if you park your vehicle for a couple of minutes. And don't ever think of making an up-and-down trip by train. leaving your vehicle at the railway parking lot, because you might end up paying parking fee more than your railway fare for a short distance travel.
This is what Dr Kirti Dua, a senior faculty member at Guru Angad Dev Veterinary and Animal Sciences University, experienced when he parked his car at the railway parking site recently.
Wondering as to how minimum parking fee of Rs 50 (for up to four hours) and Rs 100 (for 24 hours) could be justified, a curious Dua asked the attendant, who made a startling revelation which rather put the railway authorities in the dock for high parking fee than any wrongdoing on the part of the parking contractor, which more often is the case.
According to the parking attendant, the contractor paid to the Railways a staggering Rs 62,000 per day for parking sites (for cars and two-wheelers) on both sides of the railway station and with the addition of salaries of parking staff and other overheads, the contractor claims to break even at a minimum collection of Rs 80,000 per day.
"Going by what the contractor claims, the parking fee of Rs 50 and Rs 100 for a four-wheeler seems justified, but the moot point is whether the monthly collection of some Rs 18 lakh is spent by the Railways on the upkeep of the railway station and the parking areas," asks Dr Dua.
Other visitors to the railway station from different strata of life have divergent views. While a few said Rs 50 parking fee for up to four hours for a car was not very high provided the money so collected was spent for providing better amenities and upkeep of the railway station, another city resident, a frequent traveler, mocked the Railways by terming parking fee as exorbitant and dubbed the fleecing as "achhe din" promised by Prime Minister Narendra Modi.
"The Railways is not providing any facility to passengers and other visitors to the railway station. Newly installed escalators are seldom operational, working of lifts also leaves much to be desired and there is no connection from the Rakh Bagh side entrance to platform number one. In such a dismal scenario, the Railways have no right to charge exorbitant parking fee from visitors," said another agitated visitor to the railway station.
Top Stories