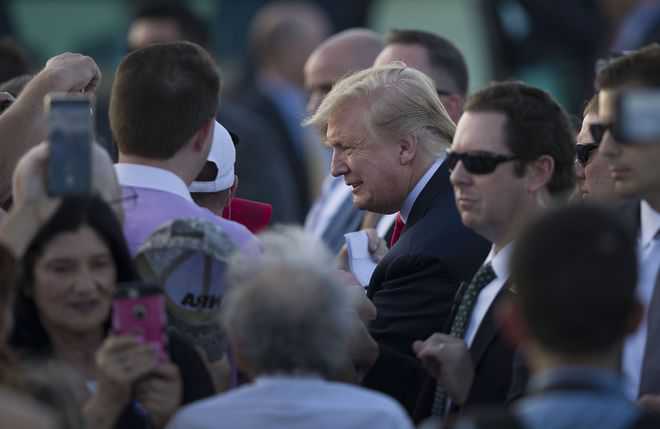 Clearwater, Florida/Las Vegas, April 19
After months as volunteer activists demanding that President Donald Trump be impeached, Eileen and Michael O'Brien sat on their couch on Thursday, cracked open a laptop and began to read the 448-page special counsel report that liberals have dreamed would make impeachment a reality.
"Hmm, seems like there's a lot of gray area here," said Eileen O'Brien (65), of Clearwater, Florida, reading aloud a line about the findings falling short of a criminal case. "Legally wrong and morally wrong are two different things." The release of the long-anticipated report by Special Counsel Robert Mueller on his inquiry into Russia's role in the 2016 election landed in a stridently divided America: one side convinced Trump acted improperly, the other adamant that the investigation was a politically driven farce. Mueller built an extensive case that Trump committed obstruction of justice but stopped short of concluding he had committed a crime, though he did not exonerate the president.
For those like the O'Briens who have been pining for impeachment, the report renewed a resolve to oust the president. For those who want to see the president reelected, there was a sense of vindication.
"The White House is going to put out their own version of things, which is basically fish wrapper," said Michael O'Brien, formerly a service technician who now works on houses. His wife, who a day earlier delivered a can of "impeaches" peaches to a lawmaker, looked up with a quizzical expression.
"It's worthless," he explained. "You can use it to wrap fish."
"One battle in a war"
Lee Mueller and his wife, Michele Mueller, no relation to Robert Mueller, also paused their Thursday to read through the special counsel's report. They printed out the table of contents for both volumes along with the executive summaries."I view the Mueller report as being one battle in a war against the United States of America's founding principles and against Donald Trump," Michele Mueller, ( 61), said in a suburb of Las Vegas.
After Attorney General William Barr released his four-page summary of the Mueller report late last month, Americans were dug in on their views. Nearly half of all Americans still believe Trump worked with Russia to interfere in the 2016 presidential election, despite the report's saying no collusion had occurred, according to a Reuters/Ipsos poll conducted shortly after the Barr summary was released. Among those familiar with Barr's summary, only 9 per cent said it had changed their thinking about Trump's ties to Russia, the poll found.
Ahead of Thursday's release of the Mueller report, Trump ramped up his insistence that he was the victim, not the perpetrator, of crimes.
James Stratton (65), of Clearwater, Florida, caught snippets of the news about the report from conservative commentators Rush Limbaugh and Sean Hannity. He looked up Barr's news conference, held Thursday morning before the report was released online, on YouTube. "Nobody on our side is going to change," the Republican president of the local Tampa Bay Trump Club said in a phone interview, adding that liberals will grow tired of hearing predictions about Trump's downfall that never materialise. — Agencies
---
Shows no Russian meddling: Kremlin
Russia on Friday once more dismissed the Mueller report, saying it failed to present clear evidence of any meddling by Moscow in the 2016 US election and called its impact on relations regrettable. "As a whole the report as before does not present any reasonable proof at all that Russia allegedly meddled in the electoral process in the US," Kremlin spokesman Dmitry Peskov said.
How Mueller's decision helped save Trump
The US Attorney General decided that Donald Trump did not obstruct a probe into whether his campaign colluded with Russia, but some legal experts said prosecutors laid out a wealth of evidence to the contrary and that they intended to leave that determination to the Congress. Special Counsel Robert Mueller's report revealed new details about Trump's attempts to impede his investigation.
House panel chief likely to issue subpoena
US House of Representatives Judiciary Committee Chairman Jerrold Nadler is expected to issue a subpoena on Friday for Special Counsel Robert Mueller's full Russia investigation report and underlying evidence, a source familiar with the matter said.
Prez slams 'fabricated' testimony
US President Donald Trump on Friday dismissed unfavourable testimony in the Mueller report on Russian election interference as "fabricated" by his political foes. "Statements are made about me by certain people in the Crazy Mueller Report, in itself written by 18 Angry Democrat Trump Haters, which are fabricated & totally untrue," the President tweeted.