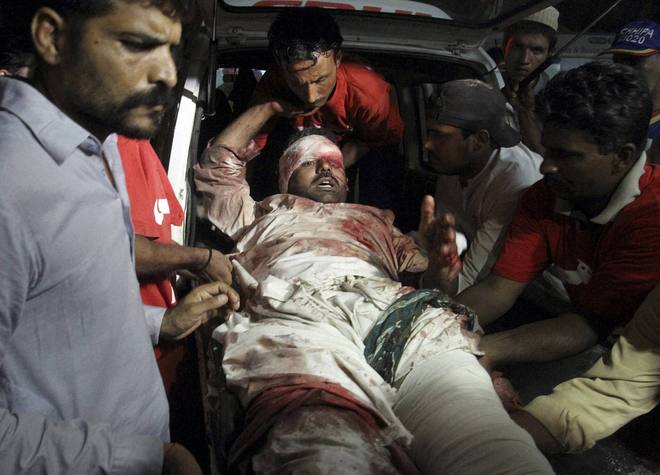 Karachi, May 25
Pakistan President Mamnoon Hussain's son escaped unhurt when a powerful roadside bomb planted by Baloch separatists targeted his convoy, killing at least three persons and injuring 15 others in the restive Balochistan province.
The remote-controlled blast occurred outside a crowded restaurant in the Hub industrial area, which links Karachi with Balochistan, as a vehicle carrying Salman Mamnoon passed by late last night. Salman, who was apparently the target of the attack, escaped unhurt while three passers-by, including a child, were killed.
The banned Baloch Liberation Army (BLA) has claimed responsibility for the attack. Meerak Baluch, a spokesman of the group, called up media offices and claimed responsibility for the attack. "We carried out the attack in response to the military operation being carried out in parts of Balochistan," he said.
Salman's vehicle had already passed the spot where the improvised explosive device (IED) exploded, hitting a rickshaw and the last vehicle of the convoy.
"The rickshaw driver, a 12-year-old child in the rickshaw and a passerby died at the spot," police official Ghulam Mustafa Shah was quoted as saying by Geo TV.
Seven policemen and eight others were also injured in the explosion. The vehicle in which the policemen were travelling was partially damaged.
"The explosives were planted in a motorcycle parked near the restaurant and apparently the militants knew the President's son Salman would pass through on the road as he frequently goes to Hub industrial area where he has a farming business," an official told PTI.
Superintendent of Police, Hub, Jam Mandokhel, said Salman's convoy and district police officer Lasbela Bashir Brohi were crossing the area when the huge explosion occurred. According to television channels, the blast was so loud it was heard in nearby areas and glass windows of nearby shops were shattered as panic spread among local residents. — PTI
Pak Rangers gun down 3 militants
Pakistan Rangers killed three militants on Monday during a raid in Karachi city. The Rangers ran into heavy armed resistance from a group of shooters while trying to bust a hideout in Surjani Town. IANS
Nod to army op
Pakistan Prime Minister Nawaz Sharif on Monday approved the army's plan to flush out Taliban militants from the difficult-to-access Shawal Valley tribal region, considered to be the last bastion of terrorists near the Afghan border. — PTI
Top News
Jammu and Kashmir Lieutenant Governor Manoj Sinha and politi...
Cops say case cracked within three days with the arrest of a...
Indonesia football association suspends league to investigat...
Samajwadi Party patron is under treatment in Gurugram hospit...
DGP dismisses Mansa CIA Incharge, FIR registered against err...