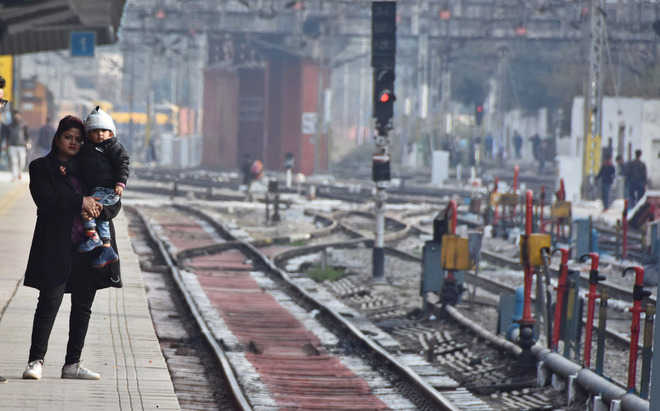 editorial@tribune.com
Our Correspondent
Ludhiana, February 11
The weather-hit erratic rail traffic in the region has taken a turn for the worse due to Gujjar's agitation in Rajasthan.
The railways announced the cancellation of 11 trains on Monday, while many other long-route trains were either diverted or running behind schedule. It was another rough day for air travellers as well since the lone Delhi-Ludhiana-Delhi Air India flight 9837/9838 was also cancelled due to operational constraints.
According to the railway officials, 12241/42 Chandigarh-Amritsar-Chandigarh Intercity Express, 12903 Mumbai Central-Amritsar Golden Temple Mail, 13005 Howrah-Amritsar Mail, 14673 Jaynagar-Amritsar Shaheed Express, 15209/10 Saharsa-Amritsar-Saharsa Jansewa Express, 15707/08 Katihar-Amritsar-Katihar Amrapali Express, 22423 Gorakhpur-Amritsar Jansadharan Express and 22941 Indore-Jammu Express were cancelled for the day.
The local Air India office said the flight had been cancelled due to operational reasons and 51 passengers from the city had booked their tickets. Almost an equal number of passengers were to take the Delhi-Ludhiana flight.
The 12926 Amritsar-Bandra Terminus Pashchim Express was rescheduled by 1.40 hours and the same train that left Amritsar on Sunday was diverted via alternate route between Mathura and Nagda. The railways said the possibility of partial cancellation, diversion or delay in running of trains passing through agitation-hit Rajasthan during the day could not be ruled out.
Trains running late
10 to 13 hours: 18101 Kolkata-Jammu Tawi Sealdah Express, 12925 Bandra Terminus-Amritsar Pashchim Express, 12903 Mumbai Central-Amritsar Golden Temple Mail.
3 to 6 hours: 18238 Amritsar-Bilaspur Chhattisgarh Express, 18507 Vishakhapatnam-Amritsar Hirakud Express, 18237 Bilaspur-Amritsar Chhattisgarh Express, 12491 Barauni-Jammu Tawi Maur Dhwaj Express.
1 to 3 hours: 22432 Udhampur-Allahabad Superfast Express, 15211 Darbhanga-Amritsar Jannayak Express, 12926 Amritsar-Bandra Terminus Pashchim Express, 13049 Howrah-Amritsar Mail, 11057 CST (Mumbai)-Amritsar Dadar Express, 12317 Kolkata-Amritsar Akal Takht Express, 12715 Nanded-Amritsar Sachkhand Express, 12203 Saharsa-Amritsar Garib Rath.
Cities