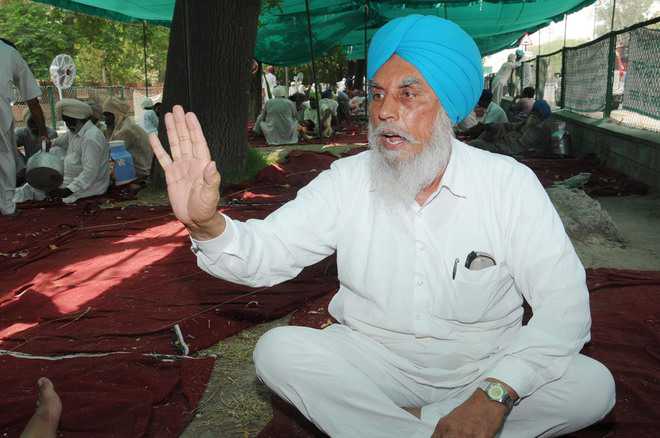 How far do you think the protest routes prove to be helpful in pursuing the aim of the kisan unions in view of the availability of top functionaries to the complainants, knocking the doors of the court and voting against corrupt governments?
The word availability in your question is a misfit! It's a theoretic word. In reality, it is unavailability. In books, papers and records, it's true that we have every tool to fight against injustice but in actually, it's only the protests. There is no other word except for protests in our dictionary.
Isn't this way quite slippery and ambiguous?
Indeed it is. I am facing 40 to 45 FIRs registered against me across the districts of Malwa region. From the simplest sections like 107 and 151 of the CrPC to more serious ones like 364 of the IPC (kidnapping someone for murder), cases have been registered against me. These FIRs are registered despite the fact that we block roads, protest outside banks or block railway tracks. The government takes every step and uses all tools of power to suppress our voice. At times, we have to sit for months together to deal with issues like getting grants issued, money disbursed for farmers and to stop the auction of land.
According to you, what is the reason for the unrest in the farming community?
Even a small child can tell more than I can about the present situation of a farmer in the state. This sorry state of affairs is due to the government's policies. There was a time when a loan on tractor was given to a farmer, who had at least 20 acres of landholding. But now, to increase the sale of a tractor, the loans are being given to those who even have a mere acre of land. If the government says that the reason for the failure of Punjabi farmers is lack of hard work, then show us the money earned by the labourers, who work round the clock amidst the scorching heat and biting cold. How much hard work do you think an arhtiya does and even when he earns much more than a farmer?
When did you have to face more cases, under the Congress or the SAD-BJP government?
Both the governments (mis) treated us. The only difference is that Captain (Amarinder Singh) was plain in his ways while the Badals have a hazy approach.
Why does your union not support any political party by asking a large number of your workers to vote for them, so that it can listen to your demands whenever that party comes to power?
All political parties and leaders are the same. Once they sit on chairs that carry immense power, they forget us and start doing things on their own. We have a policy of not having liaison with any political party. Our union leaders are not allowed to contest any elections and they are also not allowed to tell our workers to vote for any particular party. We take strong action against the leaders of BKU (Ekta-Ugrahan) if they are found guiding our workers to cast their vote for any particular political party.
How much budget is involved in your protests and facing FIRs?
Last year, we had an estimated expense of nearly Rs 64 lakh during the pucca morcha against the delay in releasing money for the damage to cotton crop in Bathinda. A majority of donation comes from farmers and individuals along with some NRIs. There are good Samaritans who also offer us milk or bread. Even today, a local businessman offered bananas to our workers and another shopkeeper gave us bread with morning tea.
Tell us something about today's protest and your demands?
It is a state-wide protest going on for the past 15 days outside the District Administrative Complex (DAC), Bathinda, to get our long-pending demands accepted. Our major demands are waiving of every kind of government, cooperative and private loan of each farmer and labourer, providing long-term loans without rate of interest, complete survey of farmers who have committed suicide, providing employment to every educated person and unemployment allowance to the jobless and curbing the stray cattle and dog menace.
How many people are associated with your union?
We have 10,000 workers and around 4,000 of them have the ability to gather at one place within a few hours if a call is given. We bring them together during the raids conducted by the bank employees to recover loans. Our organisation is mainly active in the districts of Malwa region surrounding Bathinda. We have 11 district presidents who are elected in a transparent manner through voting.