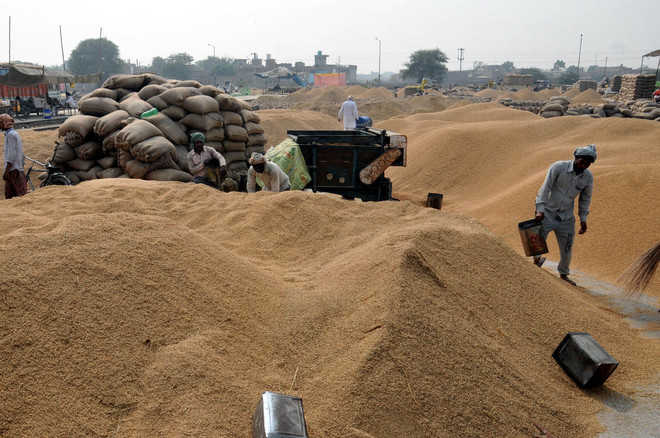 Tribune News Service
Bathinda, November 3
Several farmer unions have announced to block roads for three hours across the state on November 5 over the slow pace of paddy procurement due to high moisture content.
Sukhdev Singh Kokrikalan, state secretary, BKU (Ekta) Urgahan, said people's support was being mobilised to block roads in protest on November 5 at the village level.
Kokrikalan said, "Due to the wrong attitude of the state government and the Centre towards genuine demands of farmers, we have been forced to intensify our stir. We have been compelled to block roads in protest."
Kokrikalan said farmers had been demanding is that the prescribed limit of moisture content in paddy be raised to 24 per cent from 17 per cent. "Due to government's wrong policies, farmers sow paddy late, which results in late harvesting. It means that the harvested crop will have more moisture content. If paddy is sown before May 31, its moisture content is around 22%," the farmer leader added.
He said due to late sowing, the yield of paddy has decreased by three quintals per acre. He added that the state government should give compensations to farmers.
High moisture content in paddy has led to a glut in grain markets across the region. Farmers have been saying that they are being fleeced on account of high moisture in their paddy. They have also been alleging a nexus among rice millers, arhtiyas, Mandi Board and procurement agencies.
On a random visit to a grain market, it has been found that the paddy with high moisture has left the mandi chocked.