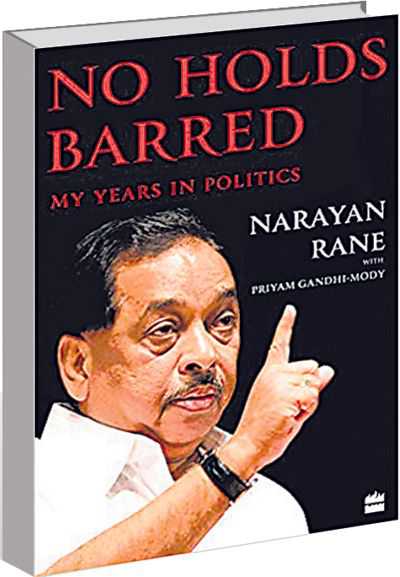 Salil Desai
Biographies or autobiographies of provincial politicians in India are a rarity, especially in English. Consequently, hardly anyone is even aware of significant contemporary politicians from Maharashtra, except for Sharad Pawar, Nitin Gadkari, the late Bal Thackeray and Pramod Mahajan. This is probably because despite hailing from India's third biggest state and largest economy, satraps from Maharashtra are far too non-fussy, non-flamboyant and less-Machiavellian by rest of India standards.
Former Maharashtra CM Narayan Rane's autobiography, co-authored by Priyam Gandhi-Mody, is therefore, valuable because it offers behind-the-scenes insights into the world of Maharashtra politics, over the past four decades. What works most forthis book is its racy and unpretentious narration that is mercifully neither too self-indulgent nor boring.
The leitmotif of Rane's politics is outlined in the first chapter itself. He confesses: "I learnt the hard way very early in life that to work for the people of the land, just good intent will not cut it. You need power — the kind which has a personality of its own and makes sure that the one who wields it is constantly spoken about by one and all — whether it's good things or bad is inconsequential. The kind of power that makes all other people — politicians, money spinners, corporate tycoons, foreign investors — feel servile." The choice of the word 'servile' is either revealingly Freudian or brutally honest!
Rane is one of the few politicians to have switched political parties twice during his career and not only he survived but managed to be fairly successful. He started with the Shiv Sena and went on to be anointed Chief Minister for the last nine months of the Shiv Sena-BJP government in the late 1990s. Thereafter, he served a full term as Leader of Opposition and then quit the Shiv Sena and joined the Congress in 2005.
After holding several portfolios in successive Congress-NCP state governments, he broke away in 2017 to float his own party Maharashtra Swabhiman Paksha and was elected to the Rajya Sabha through the BJP quota in 2018. For a man with little education and who began life as a clerk in the Income Tax Department, this is no mean achievement.
While commenting on various episodes in Maharashtra politics since 1990 and Rane's own role at various junctures, the book keeps carping on how every other Maharashtra CM in the past 25 years — Manohar Joshi, Vilasrao Deshmukh, Ashok Chavan, Prithviraj Chavan — except Rane himself were undeserving and weak. However, Rane has nothing but praise for his first mentor, Shiv Sena founder Bal Thackeray, NCP chief Sharad Pawar as well Congress chiefs Sonia and Rahul Gandhi. He accuses Uddhav Thackeray for his getting ousted from the Shiv Sena and internal sabotage by Maharashtra local leaders for quitting the Congress.
Rane's memoir provides ample evidence of his commitment to the Konkan region which he has represented for long and his understanding of political winds currently blowing across the country.
However, what is lacking is any attempt at critically analysing the elements of real-politik at play - money, muscle-power, mobilisation of hatred, chauvinism and communalism, dynastic politics, horse-trading etc. He also offers no perceptive proposals and concrete suggestions to improve the political system at the grassroots, instead almost endorsing status quo.
No Holds Barred can be a good handbook for aspiring politicians, who wish to ascend the ladder. They would benefit immensely from two pieces of Rane's advice — reading, research and preparation on various issues and constant grassroots accessibility and connect.
Indeed, more politicians should pen autobiographies, as Rane has.
Top News
The network, which operated in the darknet and used cryptocu...
Railway Board has recommended for Central Bureau of Investig...
Amid pro-Khalistan sloganeering, the 39th anniversary of Ope...
Focus on ways to expand bilateral defence and strategic ties
Observers feel election campaign built around the possibilit...