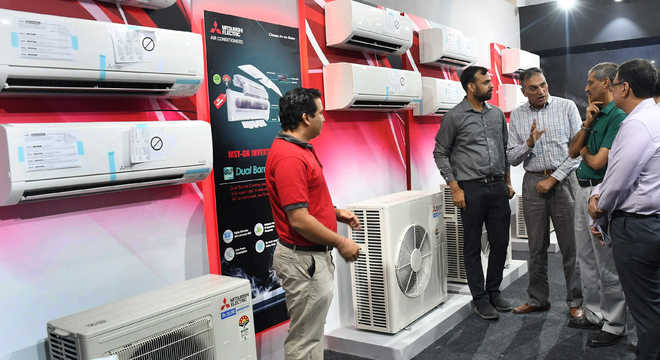 Tribune News Service
Chandigarh, April 26
CII Coolex 2019, an exclusive four-day exhibition of air-conditioning and refrigeration products, organised by the Confederation of Indian Industry (CII), kicked off at Himachal Bhawan here on Friday.
Mukesh Anand, Chief Engineer-cum-Special Secretary (Engineering), UT Administration, and Kapil Setia, Chief Architect, UT, inaugurated the exhibition. Over 16 top brands are showcasing energy-saving, eco-friendly and intelligent refrigeration, ventilation and air-conditioning products for residential, commercial and industrial enterprises with key focus on ISEER Ratings (Indian Seasonal Energy Efficiency Ratio).
"CII Coolex is indeed a good initiative that brings a number of multinational brands together under one roof, giving individual consumers the power to choose the best. Such exhibitions have a great impact on the quality of appliances and widen the scope of technology and research," said Mukesh Anand.
"I am impressed by the variety of products displayed at the fair such as air purifiers and compact coolers," he said.
Ankur Singh Chauhan, Regional Director, CII Northern Region, said: "Through Coolex 2019, the CII aims at bringing the best of green technologies and energy-savvy cooling solutions for the tricity residents and other commercial establishments all at one platform."
While Blue Star is the event sponsor, Hitachi co-sponsor and Mitsubishi Electric as the principal sponsor, CII Coolex 2019 showcased several options in HVAC & refrigeration industry.
The timings
The exhibition timings will be from 10:30 am to 8 pm from April 26 to 28 (Friday to Sunday) and 10:30 am to 7 pm on April 29 (Monday).