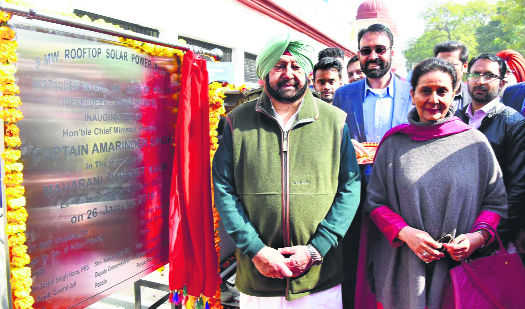 Aman Sood
Tribune News Service
Patiala, January 27
The Punjab Chief Minister (CM), Capt Amarinder Singh, announced a slew of infrastructure projects of over Rs 150 crore for the development of Patiala on Saturday.
The CM also announced that the state government would soon launch an Asian Development Bank (ADB) assisted project of Rs 699 crore for canal-based water supply to ensure uninterrupted, clean and safe drinking water for residents of the city. The quality of groundwater is not fit for consumption in the city.
Notably, the state government had already formulated a massive action plan to ensure canal-based potable water supply to residents of Patiala, Amritsar, Jalandhar and Ludhiana.
Making these announcements at the 70th Republic Day function at Raja Bhalindra Singh Sports Complex here, the CM said the previous SAD-BJP alliance government blatantly neglected development of the heritage city due to reasons best known to them.
The CM, however, said since Patiala was his ancestral home and, moreover, he promised residents during Assembly polls that he would give a complete facelift to the city by providing ultra-modern civic facilities, including excellent road connectivity, besides supply of canal-based potable water.
He reiterated his government's firm commitment to ensure holistic urban development across the state, especially Patiala.
The Chief Minister also announced that all major city roads and streets would be revamped, and other civic infrastructure inside all the municipal wards would be upgraded.
"A major project for cleaning and re-modelling of Badi and Choti Nadi will be taken up shortly," he added.
The construction work of the new bus stand would start in May after completion of the tendering process and other requisite formalities, the CM said while announcing that shifting of dairies from the city to Ablowal would begin soon.
"In order to bring more efficiency in the functioning of the Rajendra Hospital, work to improve its infrastructure is underway as this iconic hospital has been completely neglected by the previous government. I hope significant improvement will be visible once these works are complete," he said.
The CM appealed to residents to extend their wholehearted support and cooperation to the Municipal Corporation and the district administration to keep the city neat and clean.
The CM was accompanied by his wife, former Union Minister Preneet Kaur. Others present at the function were media advisor to the CM Raveen Thukral, adviser to the CM Bharat Inder Singh Chahal, MLAs Hardyal Singh Kamboj, Madan Lal Jalalpur, Rajinder Singh and Member Parliament from the city, Dr Dharamvira Gandhi.
Chairman of the PRTC, KK Sharma, chairperson, Punjab State Social Welfare Board, Gursharan Kaur Randhawa, Senior Deputy Mayor Yoginder Singh Yogi, Deputy Mayor Vinti Sangar, the PPSC chairman, Lt-Gen NPS Hira, Vice-Chancellor, Punjabi University, Dr BS Ghuman, chairman of the PSPCL, BS Sran, Divisional Commissioner Deepinder Singh, IG (Patiala) AS Rai, Additional Principal Secretary to the CM Girish Dayalan, Deputy Commissioner Kumar Amit and SSP Mandeep Singh Sidhu were also present at the function.
Top Stories