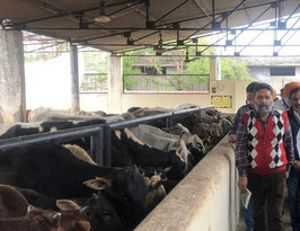 Tribune News Service
Mohali, April 4
Over 20 days have passed, but the Municipal Corporation (MC) authorities have yet to prepare a report in case of death of as many as 280 head of cattle at a local shed in January and February here.
On March 14, Municipal Commissioner Bhupinder Pal Singh had marked an inquiry into death of cattle following directions of Punjab Animal Husbandry and Dairy Development Minister Balbir Singh Sidhu, also the Mohali MLA. The Municipal Commissioner had given two-day time to Joint Commissioner to complete her inquiry and submit report in this regard.
"Even after 20 days, inquiry is yet to be completed. All those who are concerned over the death of 280 head of cattle in just two months are upset," said Manjit Singh Sethi, Deputy Mayor, who had raised the issue last month.
When contacted, a senior official of the MC said, "We are procuring records from the cattle shed, veterinaries and the staff at the dumping ground for animals."
The official admitted that none of them had maintained proper records. "Even those managing affairs at the cattle shed have not provided us proper records. We are still in the process of procuring certain data from them, which is delaying preparation of the report," the official added.
Even an official, looking after affairs at the animal dumping ground was unable to provide any record as it was never maintained, the MC official added.
"The report will be prepared within three to four days," he said.
A large number of cattle have died within a span of two months. A veterinary claimed that he conducted postmortem of around 10 animals in the last few months.
Indicating towards a big scam, Deputy Mayor Sethi said the authorities should act fast in this case so that guilty, if any, could be booked immediately.
Notably, as many as 138 animals died in February and 141 in January this year. In the past one and a half years, nearly 550 animals have died at the cattle shed.
Top Stories