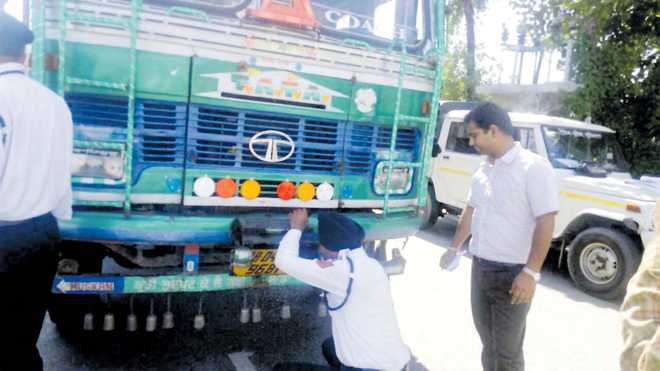 Tribune News Service
Patiala, July 27
Tightening the noose around illegally installed pressure horns on vehicles, the Punjab Pollution Control Board (PPCB) has removed such horns from around 2,000 buses in past 10 days, besides challaning these vehicles.
Divulging the details, PPCB Chairman Kahan Singh Pannu today said noise pollution created by buses and other commercial vehicles had turned into irritating phenomena for commuters, besides being a major psychological health hazard. He said unfortunately, almost all buses both in private and public sector compete against each other in the honking of pressure horns with multi-musical notes. Pannu said as these pressure horns were against the law, the PPCB had advised all bus owners, including the managing directors of state-owned transport corporations, to remove all such pressure horns immediately.
He further said 100 teams of the PPCB with the help of traffic police officials swung into action and removed the pressure horns from about 2,000 buses in the past 10 days by putting special nakas on major roads in Punjab. Pannu said in addition to that, the erring bus drivers were challaned under the Major Vehicle Act.
Pannu said the increasing noise level in the ambient air in public places from various sources, especially the vehicles, have deleterious effect on human health and psychological wellbeing of people. In recognition of this fact, in 2000, the Government of India under the Environment Protection Act, 1988, framed Noise Pollution Rules, which stipulate that no one shall cause noise pollution beyond the prescribed limit and the polluters shall be faced with imprisonment up to one-and-a-half year and fine.
Pannu said in addition, there was a provision of under the Motor Vehicle Act, 1988, to challan the buses which use pressure horns. However, he said drivers were fond of these illegal pressure horns and musical systems in the buses as a matter of fashion.
Pannu said the PPCB was committed to provide pollution-free environment to the people and nobody would be allowed to play havoc with the natural environment and resources of the state.
Top News
AICC observers dub 92 MLAs' meet as 'indiscipline' | Sonia m...
Says R'sthan crisis all about dynastic politics
Won't make Article 370 a poll issue, he says