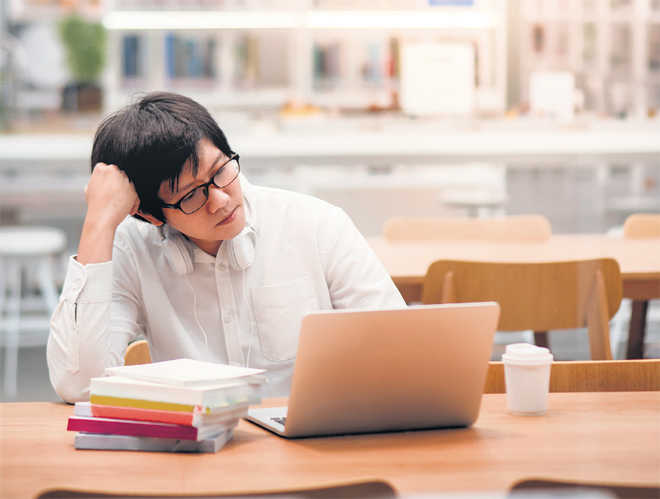 Vijay C Roy in Chandigarh
Vijay C Roy in Chandigarh
Learning, somehow, has come to mean keeping pace with the time. If you look at what has been happening at prestigious universities and schools the world over, it'd look like we are a few paces behind. Recently Texas A&M University moved a key lecture 'Principles of Microeconomics' online — without offering an option. The university is publicly funded to the tune of $1.5 billion annually and educates some 66,000 a year.
London-based The Economist has given an ad in its recent edition about GMAT Tutor — an adaptive-learning platform "as smart as you are." The app promises free trial to "help you study efficiently with advanced learning technology that adapts to your strengths and weaknesses." Study plans include full-length practice tests, online tutor support and essay grading.
All this simply means students taking the Meer and Wiggins class, which is mandatory for the hundreds of business and economics majors at the Texas university or those preparing for GMAT are not required physically to attend a single session.
In today's overloaded technology world, there is a term for this: Edtech. The objective is to make a question solvable in various ways — very much unlike in a typical classroom, where one size fits all, where one math theorem/equation/complex calculus/algorithms and questions of various subjects are dealt with in one way only: take it or forget it.
Games they play
In India the size of the e-learning market is estimated to be $247 million (Rs 1,582 crore) by KPMG market research group. The edtech idea is slowly and surely making inroads. In a Mumbai school, for instance, eighth-grade students were divided up in teams of three students each. Each team has to put in its best to design a game for a six-year-old girl living in a remote village with no access to paved roads, and where power outages are frequent. The game has to be, well a game, with learning attached to it.
The students are first told to empathize with the girl and understand the challenges faced by her. Then the teams brainstorm to ideate solutions for the girl. They create prototypes by using simulation software to check its feasibility. They came up with games like Play House, Rocking Horse, and Rubik's Race. In Rocking Horse, the girl would sit on the horse and as it rocks, the screen in front of her will show alphabets that will change due to the action caused by the girl. While playing Rubik's Race, it will help her with hand-to-eye coordination.
The eighth-grade students learnt about shape, geometry, scale, proportions while devising Play House. In Rocking Horse, they learnt about gears and how they work.
Largest edu-system
With over 26 crore enrolments, India has the world's largest K-12 (primary to secondary) education system. Learning is often driven by fear of exams. Children are still being trained to solve questions, not ask questions. Latest trends in technology, internet penetration, growing adoption of smart phones and proliferation of edtech companies are bringing about a revolution the way we learn.
Startups are bringing in 'Live & Interactive' modules for 'anywhere learning.' The edtech firms are assisting the students to learn at their own pace. The key offerings are online worksheets, practice and challenge sets.
"In the current education system, students learn something new, but they don't get immediate justification for that learning and jump to the next chapter. Eventually the kids stop asking questions and their curiosity is overshadowed by new information," says Delhi-based Rishi Khemka, chief enjoyment officer (CEO), MindBox India. The company has collaborated with schools to teach creativity as a subject, visual communication as a language and technology as a tool. Over 25,000 students across Chennai, Coimbatore, Madurai, Mumbai, Delhi NCR, Bengaluru are learning through MindBox.
Technology, many e-experts say enables equity in access to education. A student sitting in any corner of the country can access the lessons at the click of the mouse. It also enables multi-dimensional learning through interactive tools like podcasts, webinars, tweets, blogs, discussions boards and chats. "Short-term online courses and nano degrees have emerged as a viable option for re-skilling the youth and making them more employable," says Rajshekhar Ratrey, VP Educational Content, Toppr.com.
An e-learning platform for students ranging from fifth to 12th standard, Toppr.com personalizes learning. It helps students prepare for all major boards, olympiads and various engineering and medical entrance exams. It has four modules: lectures, practice, tests and doubts.
"We use machine learning algorithms to build an adaptive platform that understands each student's learning ability. With data banks built by analyzing student inputs on over 10 crore questions, the platform tailors the content to ensure that no two students learn the same way," says Ratrey. Started in 2013, Toppr.com has around 1.95 million registered students.
'Problem areas'
Another startup Edusaksham offer courses for students from class 3 onwards and has students in professional roles also. Kunal Deep, co-Founder & CEO, EduSaksham said: "Students need to identify their problem areas. Online courses with detailed analytics help our students to increase their performance level in all exams."
For professional courses, the company has online and offline modules. "Both medium are blended with online assessment. Expert mentorship helps them to increase their chances of cracking any job interview," says Kunal Deep. EduSaksham began in 2015 and has a student base of 10000-plus.
Udacity is "democratizing education" to make it affordable and accessible. The skill-based 'nano-degree' courses at Udacity are built in partnership with leading education and industry experts like Google, AT&T, and Facebook.
These certified courses help students in acquiring most in-demand skills and stay up to date with the industry trends.
And start-up like Edugorilla, connects education seekers with the providers. It offers information on educational institutes, programs, scholarships and admission notifications for undergraduate programs, vocational courses providing professional degrees or certificates and higher education in India and abroad. "Most students are not sure of the career path they want to follow. We help many such students to take an informed decision through one of our product, CareerBreeder. This tool provides online career counseling so that students can select streams analogous to their strength and skills," says Rohit Manglik, CEO, EduGorilla.
Ratrey, VP Educational Content, Toppr.com, says data, artificial intelligence and machine learning algorithms can go in making education more accessible. "Think of it as a personalized teacher who understands the uniqueness of students and utilizes the right techniques to foster their strengths and work on their weaknesses. If technology can solve the problem of delivering the education at the minimum cost, we are a taking a step towards a better future."