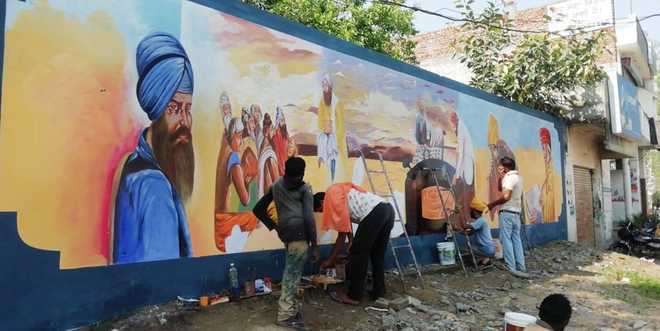 The unholy tussle for one-upmanship between the Punjab Government and the SGPC (read Badals) over the joint celebrations of the 550th Parkash Purb of Guru Nanak Dev threatens to be a blot on the commemoration of the historic event in November in which lakhs of Sikhs and other faithful from the world over are expected to take part. If the Akalis are blowing their trumpet on painting Sultanpur Lodhi white ahead of the birth anniversary, the state government has sought to compete by holding a meeting of the Punjab Cabinet in the sacred town— first time outside Chandigarh — and also planning a mega function in the town. Deepening the discord is Harsimrat Kaur Badal's allegation that the Congress government, by ignoring the SGPC, had 'weakened' the authority of Akal Takht, an accusation promptly rejected by the CM.
This heated blame game and politicisation of a momentous religious occasion marking the birth anniversary of a Guru who propagated the oneness of humanity is shameful. The two parties would do well to bury the differences and present a united face during the festivities that the believers and followers of Guru Nanak are all set to flock to.
A common platform can be worked out by setting up a coordination committee for the commemorative celebration that is just two months away. Floods and rains have already tightened the deadline. Crores of rupees have been spent by both the Centre and the state government on sprucing up the area, widening roads, building bridges and a sewage treatment plant, holistically developing 41 villages associated with the life of Gurus and creating the infrastructure for the Kartarpur corridor. The Parkash Purb arrangements should showcase to the world a top-quality affair. It would be a shame if petty politics were to mar a potentially first-class show that coincides with the opening of Kartarpur Sahib gurdwara in Pakistan for devotees from Dera Baba Nanak in India.