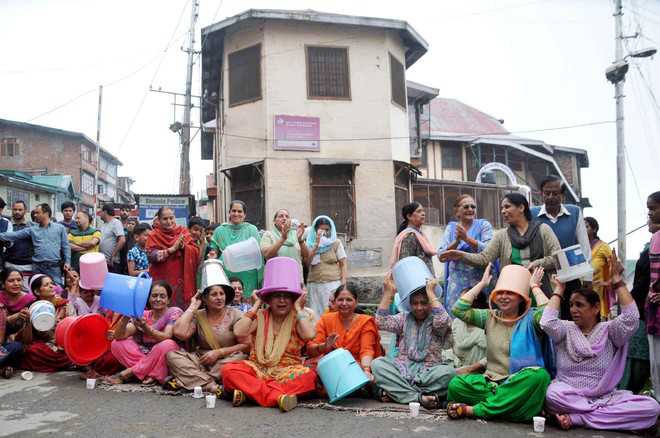 Bhanu P Lohumi
Tribune News Service
Shimla, September 12
Acute water shortage has hit several localities in the state capital Shimla. People are up in arms against the Shimla Municipal Corporation and the state government for the problem.
The residents allege that about a dozen localities are without water for past four days and they have been forced to fetch water from "baolies"(natural perennial water sources) while water was coming in trickles in several areas and at irregular hours without any intimation to residents.
The Shimla Municipal Corporation (SMC) has resorted to supply of water on alternate days but even this system has failed to work and people are facing great hardships. The government has already handed over the pumping to SMC following the High Court intervention. Now both the pumping and distribution are with the SMC but still the situation has not improved.
Home-maker Mala Devi, a resident of Chakkar, alleged that water comes for one hour after five days. "We are planning to shift from here if the present condition persists", she said.
Another resident Amit Kumar said that he had to go to his friend house in Bemloe to take bath.
Massive leakage in pipelines of Giri water supply scheme that supplies about 15 to 20 MLD of water and a fault in power transmission lines that affected pumping for over 26 hours caused water shortage as the supply was badly affected.
The persistent water crisis in the town was reviewed at a high level meeting convened by the Mayor and Deputy Mayor and the crisis was attributed to massive leakage due to worn out pipes which do not lift water as is pumped from the source. It was revealed that the scheme with installed capacity of 20 MLD was supplying less water. Two separate pipelines of 1,000 m length are being laid to plug the leakages.
Mayor Sanjay Chauhan said, "It was astonishing that the Giri supply scheme which has not even been formally inaugurated is on the verge of collapse. Already Rs 1 crore has been spent by the SMC on improving the pipelines".
"The interruption in power supply for more than 26 hours also affected pumping from Giri water supply scheme but things are improving and 32 MLD of water was available today and we are making efforts to supply of water to consumers daily", said a senior official of Water Works Department.
The situation would be better in the next three-four days and about 37 MLD of water would be available for supply and the distribution system would be improved, he added.
The supply of water on alternate days in the town was encouraging the tendency to store excess water, causing scarcity. Daily water supply would check this trend and efforts for equitable water would yield results.
The SMC has also mooted 24X7 supply of water in three wards. It will be started from December under the World Bank project and in case it proves a success, other wards would also be covered.