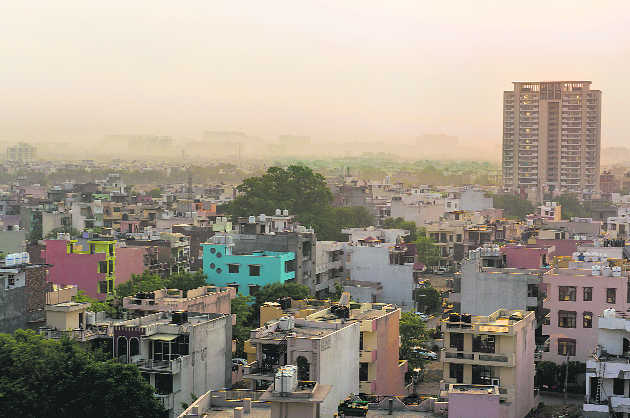 Vinod Behl
Land acquisition and legal issues, coupled with shortage of funds and poor governance are holding up key infrastructural projects in Gurugram, causing a major setback to the development of the Millennium City.
The poor state of infrastructure in Gurugram is reflected in its low ranking in the city competitive index, due to the lack of proper basic facilities of drinking water, power, drainage, sewerage, besides connectivity. According to the Institute for Competitiveness, the infrastructure and civic mess in Gurugram created by flawed development, is further precipitated by multiplicity of authorities. All these factors have led to poor civic governance here.
Poor track record
Gurugram, in fact, has a poor track record in terms of connectivity, mobility and traffic management. For years, a full-fledged city bus service has been eluding Gurugram. The authorities are now promising to launch it this year. Similarly, the extension of metro to old Gurugram has been hanging fire for years because of dilly-dallying by the government. The metro expansion plan is stuck because the state government has not been able to take a call on the proposed route of metro link from Huda City Centre Metro Station/Iffco Chowk Metro Station to Old Gurugram ever since it came to power about four years ago.
The only progress made so far in this regard is that the newly constituted Gurgaon Metropolitan Development Authority (GMDA) has conducted survey of three probable routes and Haryana Mass Rapid Transport Corporation (HMRTC) has asked RITES to submit a tech feasibility report of Huda City Centre Metro station-Gurgaon Railway Station route.
Stuck in red tape
S.P Gupta, former Administrator, HUDA, Gurugram, who has been involved in the formation of GMDA, rues the fact that even after the formation of GMDA things are not moving the way they should have. "Today, decision making has become a major casualty. Key infra-related decisions have been pending for long, which has badly affected infra development in the city. Whatever major infrastructure development has happened here in the recent past is solely due to the efforts of the Union Highway Minister, Nitin Gadkari", he says.
Commenting on the current scenario in the city Prashant Solomon, MD, Chintels & Treasurer, NCR Credai adds, "The neglect of city infrastructure is attributed a complete lack of coordination and commitment between the state and local authorities. Thousands of crores of EDC collected from developers is not used for infra development. This has badly hit homebuyers, burdened by EMI and rent. Moreover, incomplete infra like Dwarka E-way, has severly affected property valuation. In Sector 109, when we started development in 2012, the rate was around Rs 7500 psf and today it has dropped to Rs 5000-5500 psf".
Pravin Jain, Vice-Chairman, Naredco, too, laments the infra mess. "It is a peculiar situation in new sectors. While the developers have developed the area, in the absence of internal roads, there is no connectivity. In fact, till today, there is no policy about the development of 24-m-wide internal sector road. Even after projects get Occupation Certificate, people are living without drinking water, power connection, sewerage facilites and are depending on water tankers and DG sets. Developers have been demanding 33 kv power connection but authorities are unable to do so as there is no land available for setting up the power station".
Fiscal tangle
In the midst of all this chaos, fund crisis is also proving to be the bane of city development. Despite generating the highest revenue, the city is not getting its due share for massive development needs. In the past thousands of crores of funds collected through EDC, have allegedly been diverted and premier development agency — HUDA, that was once a cash-rich body, has become financially sick. There had been an outgo of about Rs 20,000 crore against enhanced land compensation paid to farmers, non-payment of about Rs 18,000 crore EDC by developers and severe shortfall in stamp duty revenue due to real estate slowdown in the district. Such is the impact of fund crisis that city roads have not been relaid for the past about three years.
Pradeep Aggarwal, Chairman, National Council of Affordable Housing, Assocham, believes that 'Infra first' approach is the way ahead to fix infrastructure-related problems. "The government should first create infra in the form of road connectivity, transport etc before undertaking real estate development. This will not only check problems arising out of insufficient infrastructure but also prompt people to invest in such areas and government would also get adequate stamp duty revenue".
Meanwhile, Haryana Chief Minister, M L Khattar has also admitted the seriousness of the problem of infrastructure development in Gurugram. He says that his government is making policy changes to tackle the legacy of previous government in terms of poor planning and take corrective measures to speed up development. And for this, he has taken a major policy decision to put brakes on all further expansion of Gurugram before the government improves the existing infrastructure. But the big question is — will it really change the fortunes of Gurugramn and put it on the path of speedy and sustained development?
— The writer is founder, Ground Real(i)ty Media, a real estate content consultancy
---
Imbalance of development
If on one hand there is imbalanced development between old and new Gurugram, on the other hand the non-existing/highly inadequate infrastructure in new sectors (sector 58-115) developed by private builders is adding to the woes of residents.
The biggest driver of real estate in Gurufram — the Dwarka Expressway — is today mired in land and legal issues and is running several years behind schedule. Last year, NHAI had taken it over and accorded national highway status to it, but this did little to speed up the work on this expressway. The main reason for this being unresolved land hurdle. The state government has remained unsuccessful in solving the land issues in this case.
Even now, there is no clarity about its completion date, though authorities claim to have cleared the hurdles towards its completion.
Similarly, crucial Kundli- Manesar-Palwal E-way has also missed several deadlines in the past and is likely to miss the new May 2018 deadline fixed by the authorities.
While NHAI has completed flyovers and underpasses in record time to ease traffic congestion in the city, local authorities have failed to get high tension power lines shifted. Their presence is posing a threat to the lives of commuters. The authorities have also not been able to relocate a petrol pump coming in the way of otherwise completed Iffco Chowk underpass.
---
GMDA failure
What has really bugged Gurugrammers is the fact that the formation of GMDA has not put an end to the problem of multiplicity of authorities, responsible for redtapism. Says R.S Rathi, Councilor & President, Gurgaon Citizens Council, "Sadly enough, even today there is no clarity on the functioning of GMDA, HUDA and MCG. Earlier, master roads, water supply, sewerage, drainage, horticulture functions were under HUDA. These functions should now logically go to GMDA, and internal works should be entrusted to MCG for smooth functioning. Then, there is the crucial issue of government not deciding the revenue model of GMDA. Simply transferring money from MCG to GMDA will not work". Vikas Jain, President, Gurgaon Chamber of Commerce & Industry concurs with Rathi. "There is an immediate need to make a single development authority, responsible for roads, lighting, garbage disposal, sewerage, drinking water, with proper responsibility and accountability. Today, we see sheer failure of leadership and lack of will to deliver. HSIIDC has been left financially unsound. Similarly, MCG has seen change of five key functionaries in the past four years".