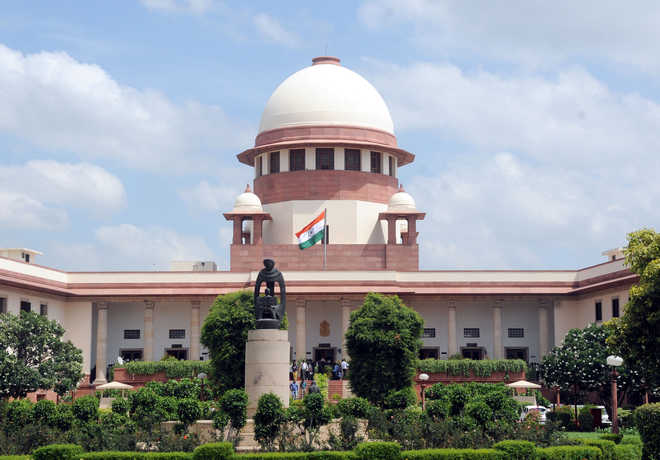 Satya Prakash
Tribune News Service
New Delhi, April 29
The Supreme Court has declared unconstitutional a 2006 law enacted by the Himachal Pradesh Assembly making it mandatory for all the private medical institutions in the state to take affiliation from the government-run Himachal Pradesh University (HPU).
The verdict came on an appeal filed by Maharishi Markandeshwar University, Solan, – set up in 2010 – which was being forced to get affiliation for its Maharishi Markandeshwar Medical College and Hospital (MMMCH) at Kumarhatti, Solan, from the HPU.
(Follow The Tribune on Facebook; and Twitter @thetribunechd)
The Medical Council of India had in 2013 granted permission to MMMCH run with an annual intake of 150 students for the 2013-2014 academic year. But the state insisted that it must get affiliation from the HPU.
A three-judge bench headed by Justice Dipak Misra struck down Section 3(6a) of the Himachal Pradesh Private Medical Educational Institutions (Regulation of Admission and Fixation of Fee) Act 2006, which conferred exclusive powers on HPU to affiliate private medical educational institutions in the state.
"We have no hesitation in taking the view that the amended provisions, in particular Section 3(6a), would impinge upon the autonomy of an independent University established under a separate State Legislation," the bench – also comprising Justice AM Khanwilkar and Justice Mohan M Shantanagoudar – said.
The top court allowed MMU's appeal against a Himachal Pradesh High Court's verdict that had upheld the controversial provision. It directed the regulatory authorities proceed "forthwith" without insisting for an affiliation of MMMCH -- a constituent college of MMU from the HPU.
Writing the judgment for the bench, Justice Khanwilkar said: "The amended provisions of Section 3 (6a) of the 2006 Act, cannot be sustained as the same are unreasonable, irrational and in conflict with the special State Legislation under which the Appellant No. 2 – University (MMU) has been established, namely the 2010 Act."
"It is incomprehensible that a college (MMMCH) which is a constituent of the Appellant No. 2 – University (MMU) can be compelled to take affiliation from some other University (HPU) by taking recourse to the provisions of the 2006 Act which primarily deals only with the subject of admissions and fees in private medical colleges within the State," the bench said.
"Since the Appellant No.1 – College (MMMCH) is a constituent of the Appellant No. 2 – University (MMU), the question of compelling it to take affiliation from another University (HPU) cannot be countenanced," it said.
Top Stories