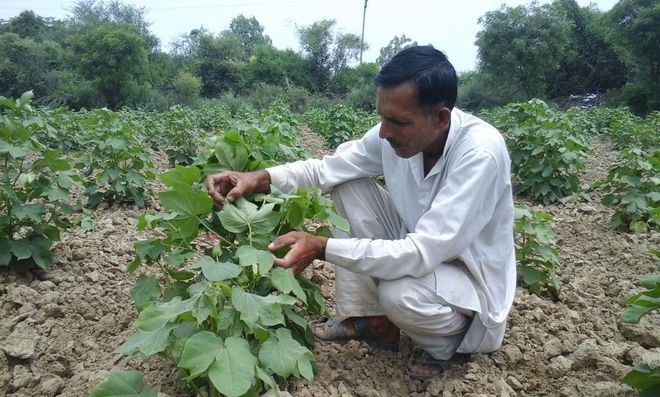 Sat Singh
Tribune News Service
Bhiwani, July 21
Like the previous year, cotton farmers in the district are spending anxious moments following the attack of white fly on their crop. They have already suffered losses to their rabi crops owing to unseasonal rain and hailstorm.
Pursottam Kumar, a farmer from Jatu Lohari village who cotton crop on 10 acres cotton is affected by the disease said that 90 per cent was damaged last year. The Congress- led Hooda government had promised compensation to them before elections but nothing was done.
Satbir Singh of Kaluwas village, who has grown cotton on two acres, said that despite suffering losses, he took a risk by leasing land for Rs. 30,000 per acre. "I borrowed Rs.10,000 for sowing and I was expecting a good return this time but the disease is likely to play spoilsport this time also," he said.
Expressing his displeasure, Ramu Kodha of Harshu Dhani village, said that the government promises to make farming remunerative but agriculture experts do not bother to come to guide them on the latest farm techniques or how to prevent the outbreak of diseases.
Mahender Kumar of Pathwas village said that they suffered losses in wheat less than six months ago and now were struck by the outbreak of white fly.
Deputy Director of Agriculture, Atma Ram Godara said that the area under cotton was 62,000 hectares and they have issued advisories about steps to be taken in case of an attack by white fly.
Top News
Resolution gets the backing of 13 Council members, while the...
The written answer to unstarred question number 980, uploade...
Punjab Police tell Punjab and Haryana High Court that the in...
Move comes day after Ali walked out of Lok Sabha proceedings...
The tax department has deployed about 40 large and small mac...