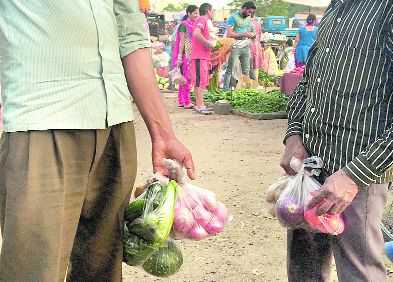 editorial@tribune.com
Tribune News Service
Chandigarh, October 8
Even as the Union Ministry of Environment has shelved the proposal to impose a blanket ban on single-use plastics to combat pollution, the Punjab Government has seized over 100 quintals of plastic bags in the past month as part of its drive to enforce provisions of the amended Punjab Plastic Carry Bags (Manufacture, Usage and Disposal) Control Act, 2016.
Though the government had banned the use, sale, manufacture, and recycling of plastic bags of any thickness in 2016, its use is still rampant in the state.
The Punjab Plastic Carry Bags (Manufacture, Usage and Disposal) Control Act defines 'carry bags' as plastic carry bags either having a self carrying handle or 'D' punched handle or otherwise.
"Since September 1, we have intensified surprise checks at shops and seized 100 quintals of plastic bags. In June this year, the Punjab Pollution Control Board (PPCB), along with the departments of Rural Government and Local Bodies, carried out statewide raids and seized 40 tonnes (40,000 kg) of banned plastic bags," said KS Pannu, mission director, Tandarust Punjab.
There are 505 plastic units in the state in the category of recyclers, manufacturers, producers and brand-owners. Of these, 144 units have obtained registration under the Plastic Waste Management Rules, 2016.
As per the figures available with the Central Pollution Control Board, the plastic waste generation in the state has risen from 377.78 tonne in 2014 to 54,066 tonne in 2018. Of the total plastic waste, about 50 per cent comprised single-use products such as bottles, plastic bags, packaging material, plates and cups.
The Union Environment Ministry has now asked the states to enforce existing rules against storing, manufacture and use of plastic bags. The ministry has already clarified that there would be no immediate move to ban plastic bags, cups, plates, small bottles, straws and certain types of sachets and instead the government would try to curb their use.
"No new ban is being issued. We are enforcing the ban on polythene bags of any thickness," said Pannu.
To reduce the multi-layered plastic waste, the shiny plastic material used in packaging of chips, mouth fresheners, tobacco products and ready-to-eat food products, the PPCB established the Punjab Plastic Waste Society in November 2018. The society engaged services of the Indian Pollution Control Association, New Delhi, to collect and dispose multi-layered plastic from Patiala and Amritsar city from October 2018 to March 2019.
550 plastic units
In June this year, the Punjab Pollution Control Board and other departments carried out statewide raids and seized 40 tonnes of banned plastic bags
There are 505 plastic units in the state in the category of recyclers, manufacturers, producers and brand-owners
The plastic waste generation has risen from 377.78 tonne in 2014 to 54,066 tonne in 2018