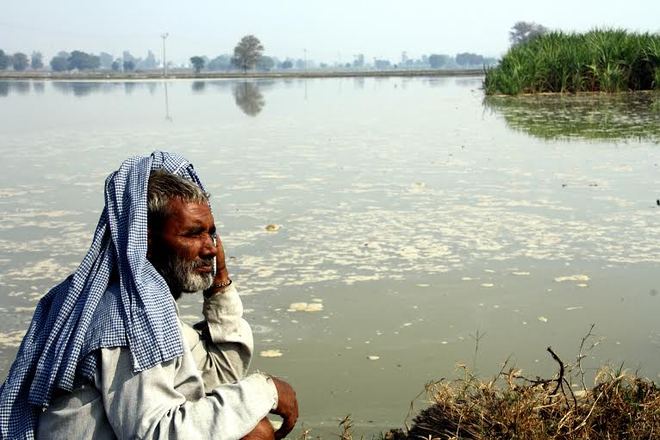 Ravinder Saini
Tribune News Service
Bahu Akbarpur (Rohtak), November 15
Farmers of this village are a worried lot as their recently-sown wheat crop got damaged due to canal water stagnant in their fields for the past two days.
Around 400 acres of agriculture land got flooded due to erosion of embankment of the Kaahnaur distributary canal in the village on Friday night.
The farmers said they would now not be able to grow wheat crop this season as moisture in the soil would take time to dry it up even after the removal of accumulated water.
"I had recently sown wheat on 10 acres, but water damaged it entirely. Over 3 feet water is still stagnant in my fields. I had spent Rs 15,000 per acre to cultivate the crop," said Shri Bhagwan, a farmer.
Kapur Singh, who had sown wheat on five acres, said he would have to struggle to meet both ends meet this season as there was very less chance to grow the wheat crop again."Wetness will remain in the earth for long despite drainage of stagnant water," he added.
Rajabala, a farmer, said she had cultivated wheat in four acres on Thursday but the canal water flooded the fields causing damage to the crop. The farmers have demanded adequate compensation to bail them out from the crisis.
Though the irrigation officials are making all possible efforts to drain out the accumulated water from the fields, hundreds of acres are still submerged under knee-deep water.
"The breach has been plugged and adequate pump sets are being used to drain out accumulated water from the agriculture land. The water is likely to be removed within a couple of days," Executive Engineer Punit Roy said, adding that the water flooded around 400 acres in the village.