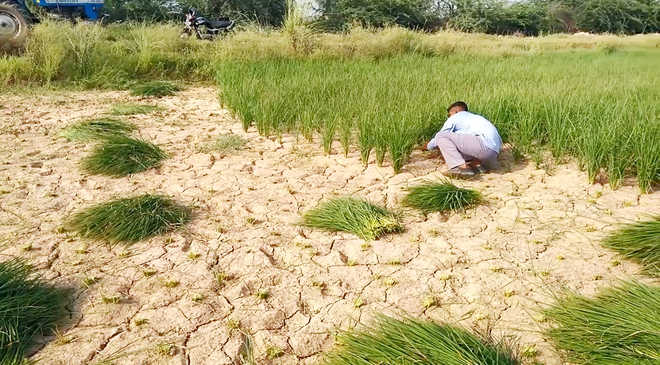 Deepender Deswal
Tribune News Service
Hisar, September 19
The double whammy of deficient rainfall and whitefly attack seems to have broken the backbone of farmers in Hisar and Bhiwani districts during the current kharif season. The main crops of cotton and paddy have suffered extensive damage in the region as farmers are resorting to destroying their standing crops which have gone pale due to lack of irrigation.
Agricultural scientists maintained that with 42% deficient rainfall, the crop yield was likely to come down drastically. "We hope that the state government is taking stock of the situation and it's definitely drought-like conditions," said a scientist of Haryana Agriculture University (HAU).
Farmers' organisations have demanded special girdwari from the government to assess the crop loss while demanding that the region be declared "drought-hit". Bharatiya Kisan Union and the Kisan Sabha have stated that the farmers are approaching the authorities with complaints about the crop loss but their applications are not being entertained for insurance survey under the Pradhan Mantri Fasal Bima Yojana (PMFBY).
A farmer of Chainat village, Yashvir Singh, said he had planted paddy in 18 acres but due to less rainfall, he's had a loss of about Rs15,000 per acre.
Sube Singh, a Kisan Sabha activist, said crops such as cotton, moong and gawar were also affected 50% to 100% in areas like Balsamand, Adampur and Barwala. The BKU leader, Ravi Azad, said: "We demand a special girdwari and a relief package for the entire Bhiwani district immediately. We have started a dharna in Tosham and will start another dharna at the district headquarters from September 22 if out demand is not met."
An agriculture development officer (ADO), on the condition of anonymity, said whitefly attack damaged 25% to 40% of the cotton crop in some parts of Hisar, while the loss to paddy was more or less the same on account of scanty rainfall. Hisar has 1.47 lack hectares under cotton and 50,000 hectares under paddy.
The Indian Meteorological Department (IMD) stated that except for Yamunanagar and Sirsa, all other districts in the state had deficient rainfall (approximately -42 per cent) during the monsoon. Rohtak district was the worst affected with -71% rainfall.
Prof ML Khichar of the agriculture meteorology department of the HAU said farmers got good rainfall at the time of sowing but when the crop was in the maturing stage, the less than average monsoon adversely affected the crop.