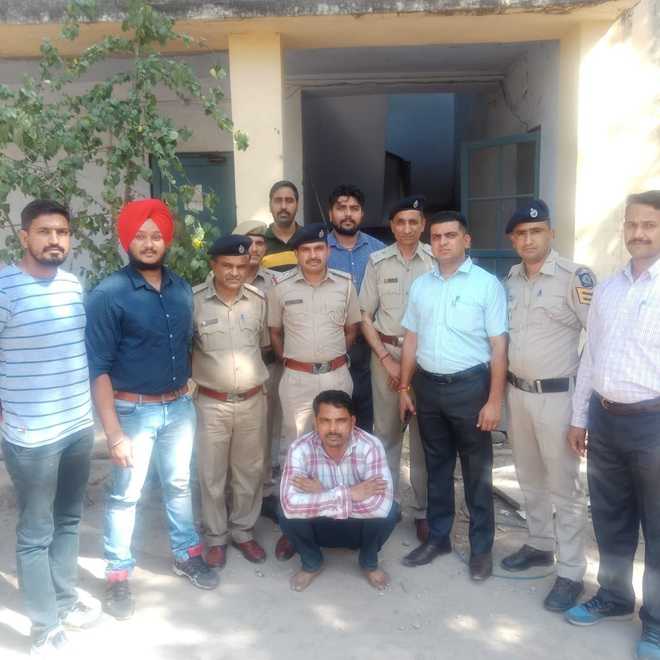 Tribune News Service
Solan, June 10
The Baddi police achieved a major breakthrough in the June 8 ATM robbery case by arresting one Israr, a resident of Badaun district of Uttar Pradesh, from his native place last evening.
Giving this information, SP Baddi Rohit Malpani said Israr was one of the accused involved in ATM robbery cases which had taken place in Nalagarh, Barotiwala as well as Parwanoo in April and June. Search was on to trace two other miscreants whose involvement in such cases has also been established.
The ATM of the UCO bank at New Nalagarh area had been uprooted and cash worth Rs 8.36 lakh had been looted on June 8 by the miscreants.
He said joint raids were conducted by a team of 20 policemen from Baddi and Solan police. Help was also sought from special operations group of Uttar Pradesh to raid their probable hideouts in Badaun area of Uttar Pradesh in the last couple of days.
The gang, which hails from Badaun area of UP, had got together while serving a sentence in Burail jail of Chandigarh and is involved in thefts, snatching, dacoity, etc.
The gang had also stolen three Honda City cars from Chandigarh which they used in carrying out ATM robberies. One vehicle has been seized from Badaun by the Baddi police. They also used to steal pick-ups and recovery vans parked on the roadsides as they helped them in transporting ATMs.
Malpani said Israr has accepted that he was part of the gang which had executed ATM robberies at Nalagarh, Parwanoo and Barotiwala and recce of a few other locations in other districts of Himachal had also been done by them.
He will be produced before a local court for seeking his remand and information pertaining to the Rs 8.36 lakh cash was yet to be obtained from him.
The police had recovered the wreckage of the broken ATM of UCO bank from the neighbouring Haryana.
Top News
No such confirmation from Interior Ministry | Protesters cal...
China is considering military bases in several nations
Probe info breach, step up security, BJP urges UT administr...