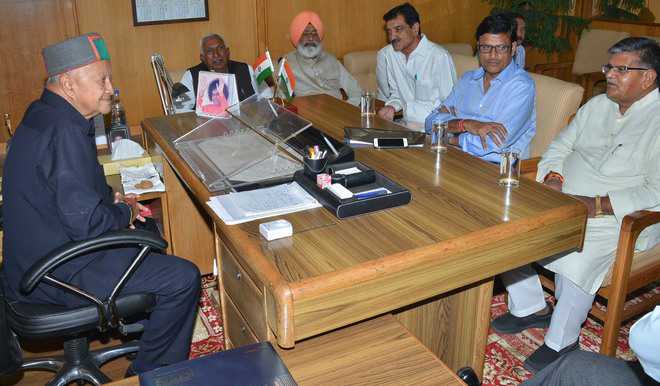 Tribune News Service
Shimla, June 8
Chief Minister Virbhadra Singh today urged the Rajasthan Government to expedite the long-pending issue of Pong Dam oustees' rehabilitation in a time-bound manner so that the families of oustees could be rehabilitated.
He was presiding over a meeting to resolve the long-pending issues of rehabilitation and allotment of land to the left-out families of Pong Dam oustees between the Rajasthan and Himachal Governments here today. The meeting was attended by representative ministers and senior officials of both the governments.
After detailed deliberations, it was decided that all such cases of Pong Dam oustees pending for allotment of land in Rajasthan would be scrutinised and processed for the final allotment by September 30.
The state government would ensure that all required documentation was complete while forwarding these cases to Rajasthan. The Government of Rajasthan would expeditiously process and sanction these cases. It was decided that in case of any shortcoming in the documentation, the Deputy Commissioner (Relief & Rehabilitation), Government of Himachal, would be contacted personally instead of seeking references which may consume more time. The Government of Rajasthan decided to hold special camps for allotment of land to the left-out Pong Dam oustees on the first Monday of each month in Bikaner in the office of Commissioner Colonisation.
The Deputy Commissioner (R&R) would ensure wide publicity of these camps among the eligible oustees. Further, he or his authorised representative will ensure their presence in these camps to facilitate allotment of land.
Rule 4-A of the Rajasthan Colonisation (Allotment of Government Land to Pong Dam Oustees in the Rajasthan Canal Colony) Rules, 1972, has imposed some restrictions for allotment of land to such oustees who have not adopted the family planning norms.
The Rajasthan Government has so far been liberal and flexible in not strictly enforcing this rule which renders certain oustees ineligible. However, some stray instances have been brought to the notice wherein this rule has acted as a bar to allotment. The Government of Rajasthan has agreed that such cases will be reviewed and in future all such cases will be dealt with a sympathetic manner.
Top News
With the induction of five more ministers, the strength of B...
Supreme Court judge bats for mandatory regulation of social ...
Two-day special Maharashtra Assembly session begins
Two AK series rifles, seven grenades and pistol recovered fr...
BJP's next round of growth will come from South India, says ...