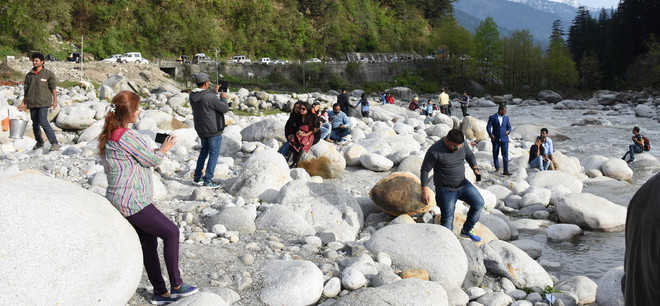 Dipender Manta
Tribune News Service
Mandi, June 16
Ignoring the warning of the Mandi and Kullu administration, tourists continue to venture close to the banks of the Beas for recreational activities.
With the temperatures in the hills rising, snow has started melting in the high-altitude areas of Kullu district. With this, the water level of the Beas is also increasing. Several fatal incidents close to the river have been reported of late.
Sources said dams built on the river at Larji and Pandoh were overflowing, forcing the authorities to release water on a regular basis. In view of this, the administration has been cautioning locals and tourists against going close to the river, as this could put their lives at risk. However, ignoring the warning, tourists could be seen parking their vehicles on the roadside on the Mandi-Manali route and going towards the river to get photos or selfies clicked.
The sources said sand mafia had constructed road links to the Beas, making it easier for the tourists. They said these needed to be closed at the earliest.
An 11-year-old child from Rajasthan recently drowned in the Beas near Manali.
Mandi SDM Sunny Sharma said the water level of the Beas had been increasing by the day, Therefore, tourists and local people were advised to refrain from going near it.
He said warning signboards had also been installed on the roadside. "Whenever we receive any information about people going near the river, we immediately send a police team to the spot," the SDM said. DC, Kullu, Richa Verma also directed all SDMs to install signboards on the river banks to alert tourists. She directed the police department to increase patrolling in vulnerable areas to avoid any untoward incident.