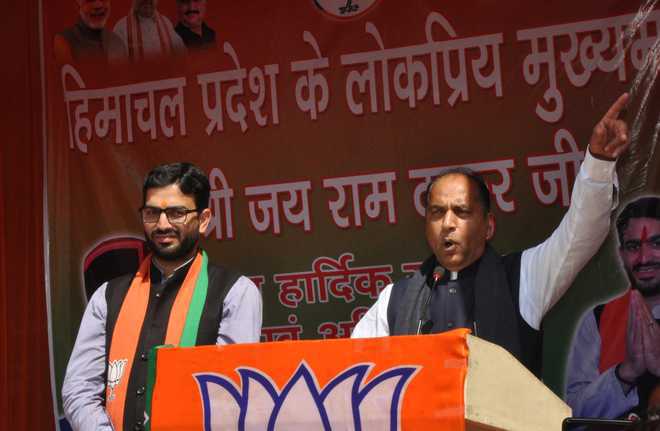 Pratibha Chauhan
Tribune News Service
Shimla, October 19
The stage is set for a triangular contest in the bypoll for Dharamsala and Paachad Assembly segments, as caste alignments and selection of weak candidates are giving anxious moments to the ruling BJP.
The presence of BJP rebel Dyal Pyari in Paachad and Rakesh Kumar in Dharamsala is adding to the worries of the ruling party, which had won both the segments in the 2017 Assembly elections. Given the past political history of the state where normally the ruling party wins the byelections, the BJP is faced with the challenge of retaining both the seats. Chief Minister Jai Ram Thakur sought votes for party nominee Vishal Nehria in Dharamsala as campaign came to an end today. The Congress, on the other hand, felt the absence of former minister Sudhir Sharma, who made a token appearance in Dharamsala today, after backing out from contesting at the last minute. Similarly, former minister GS Bali could not campaign on health grounds.
It was Congress president Kuldeep Rathore who held the fort in Paachad, while CLP Leader Mukesh Agnihotri campaigned in Dharamsala. A total of 82,137 eligible voters will cast their vote at 89 polling booths for seven candidates in Dharamsala, while in Paachad, 74,487 voters will decide the fate of five candidates by casting their ballot at 113 booths.
Top Stories