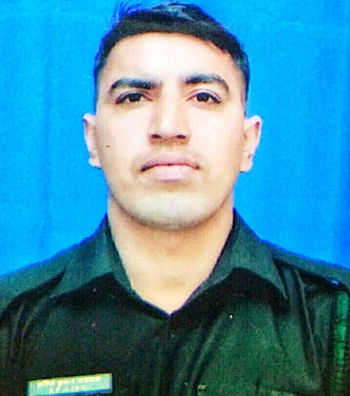 Our Correspondent
UNA, JUNE 18
Mortal remains of Rifleman Anil Jaswal, who laid down his life fighting terrorists in Anantnag district of Jammu and Kashmir this morning, will be brought to his native village Saroh in Bangana sub division tomorrow.
The soldier, serving in the 13 Jammu and Kashmir (JAK) Rifles, was martyred in Bijbehara area of Anantnag during an encounter, which left two militants dead. The soldiers were on a search operation on the basis of an intelligence input that some militants were hiding there. Two more army personnel were injured in the encounter.
Bangana Sub Divisional Magistrate Sanjeev Kumar said he was in touch with the Army headquarters and the martyr's body was expected to reach his village tomorrow morning. He said that the slain soldier's family members have been informed.
Anil leaves behind his wife, a five-month-old son and parents. His father Ashok Kumar, who is also an ex-serviceman, was in tears on hearing the news about his son's death, while his mother and wife went speechless. His father said Anil had got recruitment in the Army about six years ago. He married Shweta two years ago.
The couple has a five-month-old son. The martyr was at his ancestral village along with his family in May and had rejoined his duty just about a fortnight ago. "Just two days we all celebrated Anil's birthday", said the sobbing father.
Meanwhile, Kutlehar MLA and Rural Development Minister Virender Kanwar has condoled the death of Anil Kumar, who, he said, had made the supreme sacrifice for the nation. Kanwar said the state government was with the aggrieved family in this hour of distress and assured them all help.
Top News
Deciding on the chief ministerial face who can bind the part...
Former PCC chief Kuldeep Singh Rathore, who won from Theog i...
A bench of Justices MR Shah and CT Ravikumar said that only ...
In Parliament, urges govt to fix mistakes at earliest as it ...