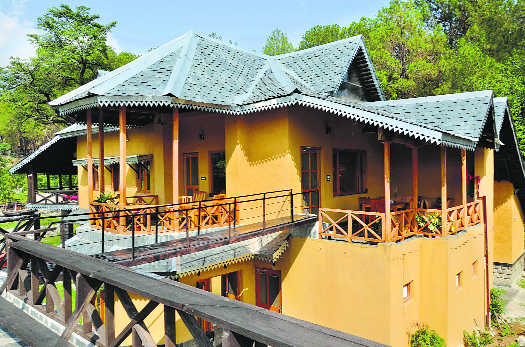 Lalit Mohan
Having fallen in love with the picturesque snow-clad Dhauladhar ranges, US national, Didi Contractor (87), who chose the tiny hamlet of Sidhbari on the outskirts of Dharamsala as her home decades ago, is much in demand today for providing eco-friendly mud houses.
The view of the double-storeyed mud houses, having grey slate roofs, is a pleasant sight and an instant eye-catcher amidst high-rise structures in and around Dharamsala.
The beautiful and aesthetically constructed houses in the foothills of Dhauladhar range are made from locally sourced raw materials, be they roof slates, extracted from the nearby Khaniyara mines, locally available bamboo and sun-baked mud bricks. The mud houses are becoming popular among the hoteliers who target high-end clients to stay in these eco-friendly homes for tourists.
Octogenarian Dalia, known as Didi Contractor and fondly called Amma by her interns, was born of a German father and an American mother. She had first visited Dharamsala in the early 1980s, fell in love with the place and chose to spend the rest of her life here.
Naresh Kumar Sharma, a resident of the nearby Rakkar village, an old apprentice of Didi, now carries out the construction of mud houses under her supervision. While talking to the Himachal Tribune, he said he started his training under Didi in 1994. "Since then I have constructed more than 40 mud houses in the Kangra valley and adjoining states." he said. Giving details about the technology used in the construction of the mud houses, he said only local material, including clay, stones, bamboo, cow dung and husk, was used in the construction of these houses. "We generally use clay from the site to make bricks that are sun dried. The bamboo varieties that are locally available are smoked in kilns or seasoned in running water to use these in the construction of a roof. Since local material is used the construction of mud houses, it takes a longer time but the cost of construction is much less than concrete structures," he said, adding that more people and hotel owners are now contacting them for construction of mud houses designed by Didi. Didi, who was now about 87 and did not keep good health still trained about three apprentices in mud- house technology at her house in Rakkar village.
Sharma said the technique Didi had developed for construction of mud houses had a few special characteristics. The mud houses developed with her technique have self-regulating temperature (warm during the winter and cool during the summer) and are earthquake-proof. Apart from having a high-utility value and being self sufficient, these houses have a kind of serene beauty which makes them special. Mud houses are not structures built for the scale in the plains but are suited for a hilly terrain where cement houses are incongruous, he said.
Didi grew up in Texas, US, and spent some time in Europe as well.
The Second World War brought her back to the US where she was pursuing a degree in art at the University of Colorado. Here, she met her husband-to- be, a Gujarati architect and builder, Ramji Narayan. They got married and came to settle in India. Didi always had an inclination towards designing and building houses which, as a child, she did while living with her parents. A traditional family mindset did not allow her to work in India but she was in love with the country. Circumstances changed with the course of time and she parted ways with her husband, which brought her to Sidhbari near Dharamsala along with her three children.
Since then, she has made Dharamsala her home and has developed a technique to build sustainable houses with mud and stone, which is inspired a lot from the local tradition. She has built about 15 mud houses, including a beautiful 14-room old people's home.
Top News
The China-bound Mahan Air flight is now out of the Indian ai...
The Indian High Commission is on its toes after the Sikhs fo...
Video goes viral on social media
Bypoll to six more seats in 5 states to be held the same day
Last day of session begins with Speaker Kultar Singh Sandhwa...