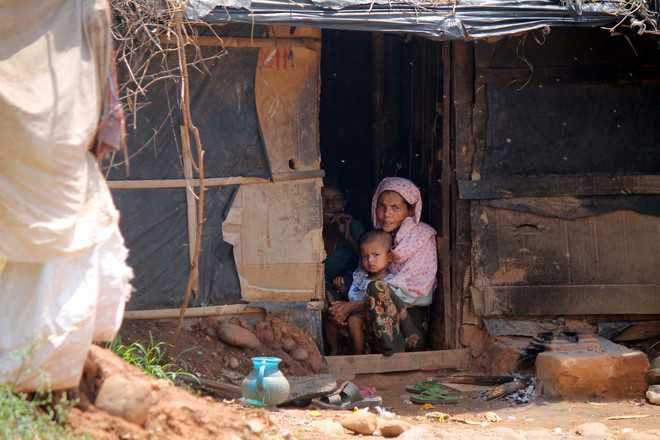 Amir Karim Tantray
Tribune News Service
Jammu, December 7
Rohingya Muslim refugees have refused to accept the United Nations High Commissioner for Refugees (UNHCR) proposal to leave the Jammu region on safety concerns, saying that they do not face any violence in the province.
They rejected UNHCR proposal of facilitating their movement to some other place, asserting that despite a few political parties demanding their ouster, they haven't faced any violence from general public.
"A couple of months ago, a UNHCR team came to us and presented a proposal that they would facilitate our travel from Jammu to any other place and would provide us free ration for a month till we got some work. But we refused with the argument that we are happy here despite threats from some political parties," said Muhammad Younus, a Rohingya refugee living in the Narwal area of Jammu city.
According to official data, 5,743 Rohingya refugees are currently residing in the state with 4,999 Rohingya refugees settled in Jammu district and rest of them in Samba district. They mostly work as labourers and also do menial jobs to feed their families.
Their stay has been facilitated by the state administration, which has allowed them to construct hutments with barbed wire fencing around their settlements.
Their settlement in Jammu has made some political parties raise a hue and cry over the "changing demography" of the Hindu-majority Jammu plains. Protest demonstrations have also been held in the winter capital over the issue. The BJP, which is part of the coalition government in the state, has maintained that it has taken up the issue with the Centre.
Considering the protests against the Rohingya refugees, the UNHCR had told them to move out of Jammu as it would not be safe for them there.
The stories of brutality against Rohingya in Myanmar have impacted the young refugees here. "Our parents fled Myanmar, where the government and army resorted to violence against them. I was born here (Jammu) and haven't seen that situation. But hearing the stories of violence against our parents and others, we don't want to go back," said Tania (name changed), a Rohingya girl.
"When someone says we must leave this place, we feel frightened. We want to live our life here and study," she added.
Top News
Indian nationals, who worked with private company, were arre...
Sonia Gandhi, Mallikarjun Kharge, Rahul, Priyanka attend the...
Flags concerns to US, Canada over Pannun's threat to Air Ind...
Wray is expected to hold talks with senior Indian security o...
Former CM Vasundhara Raje, and Union ministers Gajendra Sing...