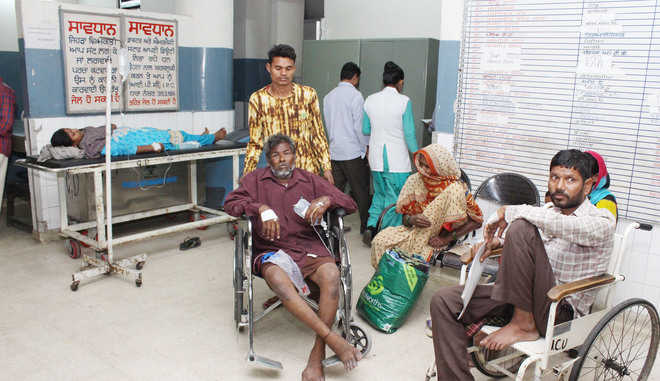 Aakanksha N Bhardwaj
Tribune News Service
Jalandhar, October 22
Influx of patients at private clinics, hospitals and civil hospitals can be seen on a daily basis in the district. Even a small private clinic is seen packed with the patients while some wait outside for their turns. Despite the much-hyped 'Swachhata campaign' that is being run.
As per information, around 440 dengue cases have been registered with the Civil Hospital.
Many patients are suffering from viral fever, low platelets, dengue. It is not for the first time that such problems have arisen, but it seems that it has become a routine that every year there will be an increase in patients suffering from such ailments.
Doctors from private hospitals and clinics said at least, 40 per cent of people are ill.
"There is a surge in the patients who are coming to us with such problems," they said.
Doctors from the Civil Hospital said not only the adults, but also newly born babies are coming with the low platelet count.
The Civil Hospital staff said daily, an average of 30 patients come with the low platelet count, which shows the grave situation.
In the blood bank of the Civil Hospital, there is a shortage of staff and only one apheresis machine, which separates platelets from blood, is present.
As per information, two staff nurses are required, but at present there only one is available. Of the 10 technicians, four are present while others have been coming from other branches. Also, there is only one apheresis machine at the centre. Earlier, there were two of them, of which one was sent to Phagwara.
Dr Satish Kumar, medical officer, Civil Hospital, said the patients with low platelet count must not panic.
"If the platelet count is up to 10,000, then also they should not get worried, but if someone is having bleeding, then there it is a concern but otherwise panic should not be created among patients.