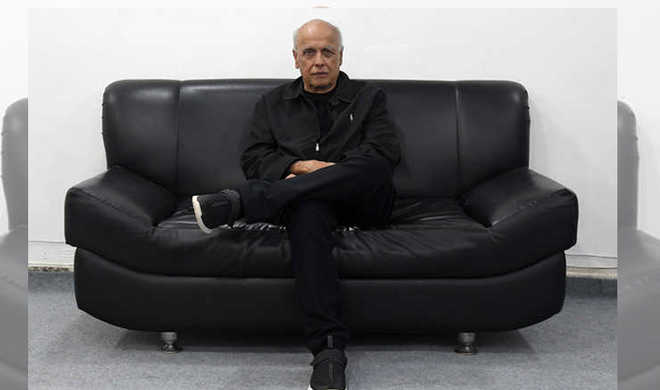 Mona
A great spring is how filmmaker Mahesh Bhatt labels his recent innings, post 20 long years of winter — it's his gift to the younger generation from the rich repertoire of personal and professional experience.
"I was like an unfinished painting, some work left," says Bhatt, as we catch him at Mahesh Bhatt Ki Pathshala, in Chandigarh, on Sunday. Analysing, critiquing the acts put up by confident little kids to enthusiastic youngsters, equally vociferous is Bhatt in his praise and criticism. "Actors cannot be manufactured on assembly lines, we can just inspire them to walk on their two feet. Take a little elemental training, but be certain to have the physiology of an actor," he says, calling artistes —actors, poets, painters — the gift of life to life!
Revisiting Sadak
Sadak 2 feels like a franchise, a fever that has held global cinema in its grip. Why only Sadak and not any of his other films? "It was when Sanju came to see me post his jail term. This film has depth that come from two men who have led rather unconventional lives," says Bhatt, who is back as a director after a long hiatus. The Sadak sequel catches an old, aged Ravi (played by Sanjay Dutt) at a point in life when he's grappling with love and loss. How he interacts with the vibrant, yet dysfunctional characters of Alia and Aditya Rao Kapur make for a major part of the narrative.
Bhatt is amazed by Alia's phenomenal achievement in such a short span of time. "That she has done it on her own makes it all the more special." The only credit he takes in her success is the atmosphere that home provided, "Her mother, an actor, is the spine of the home that has been the soil for her to nurture what she is today."
Foray into Pollywood
Bhatt is very happy at his association with Punjabi film Dushman; that it was a disaster is a historical fact he takes in his stride! "Netflix saw in Dushman what the Indian and Pakistani audience could not see. There is no shelf space for cinema of love in times of hate."
Future tense
Bhatt labels the current climate as dangerous when man is turned against man. "In this age of connectivity, we have never been more divided. We need new tales to keep mankind together, old stories are not working." It's the time to accept and find ways to put disjointed lives together for everyone, believes Bhatt.
mona@tribunemail.com
---
Proud of the daughters
"Pooja is a force to reckon with. She's been a star and back in the field, taking this movie to all-together another level. Shaheen has written a book on depression that she has grappled with. I've never been (Un)Happier has been published by Penguin and will be out on December 4. I am discovering Alia as an actor in Sadak 2. On the set, we don't meet with the baggage of a parent and child. I respect her right to question me and interpret the scene her own way. She makes my wrinkles glow!"
Top Stories