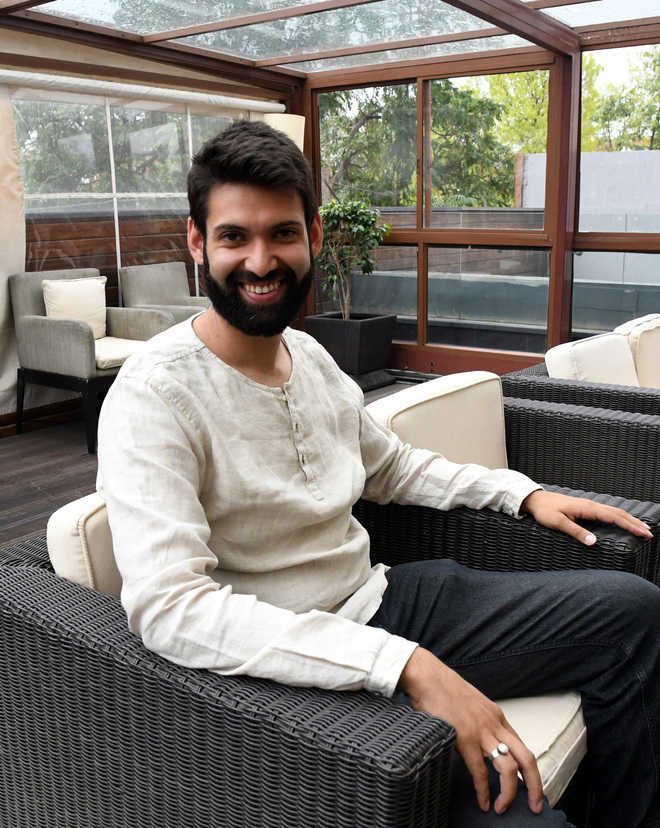 Mona
In his cinematic journey, filmmaker Ojaswwee Sharma has dabbled in many genres but has been labelled documentary-maker largely — a title he is out to proclaim with a docu-drama that he trusts our city is going to be proud of!
With 25 short films under his belt and laurels gathered from international film festivals for his two highly acclaimed films — Zubaan and The Last Date — this director-producer has his kitty full with six more short films in various stages of production. Opening the account with Badalati Soch this year, a film that brings together issues of girl child and gender equality, this five-minute short is duly supported by National Health Mission, UT, Chandigarh.
Social eye
In fact, most of Ojaswwee' work cries out social causes. Deliberate? "Not really," opens up this rather handsome and solemn director. "My idea of telling a story is taking a slice out of life and presenting it. Issues get interspersed," says this filmmaker, who writes most his projects. In fact, the line-up for the year has themes — food wastage in Butter Toast; wait for long-pending dues by an honest police constable; social opinions impacting question of identity; and another sequel to JSLive and JS Live 2 – a fun take on social media and it's over over-arching impact on our lives.
While all others are of short duration it's the docu-drama that's feature length. "Chandigarh is a city of educated and the topic that I am currently documenting gives an impetus to its status as a 'learned' city." The process is long and arduous, but Ojaswwee is happy the way it is shaping up. "I pick up lots of subjects for my soul; kitchen suffers is another matter," he laughs.
Talking finances
That short films are not financially viable is an open secret, what makes him carry on this path? "Well, I am a story-teller. And if I hit upon an idea that can be conveyed in a few minutes, I don't think of commercial aspects and sully its purity." For financial concerns there is commercial work — advertisements, promotional and corporate films.
Dividing time between Chandigarh and Mumbai, this award-winning filmmaker finds his ideal in Rajkumar Hirani. "His films are thoroughly entertaining and without being in your face pass on a message that matters to masses and beautifully so."
Question him on fringe groups staking claim on films' release, he feels, "No film hits the screens before being passed by various advisory boards. Once through with it all, no one should be allowed to stall the release."
Speaking of glamour industry, it's hard to ignore Sri Reddy and her 'nude' protest against casting couch. "There are two sides to every coin. For self and my crew, I ensure work ethics all the time. As for others, I am not responsible. Let's face it; casting couch isn't restricted to the film industry alone."
A feature next, this city boy aims to elevate education through his films and more. "While huge stress is placed on academics in our country, is real learning happening or not is my worry! Addressing and contributing to this cause is up on my list of priorities."
Surging ahead
Ojaswwee Sharma's films have been appreciated on international forums. Zubaan garnered 12 feathers, including Vancouver International Film Festival and Sikh Lens Arts and Film Festival; and The Last Date four, including Best Director award at Rajasthan International Film Festival. So, what does it mean to get critical acclaim? "Well, for one it's a huge honour and, two, more importantly so, it strengthens the resolve — another pointer that one is on the right path!"
mona@tribunemail.com