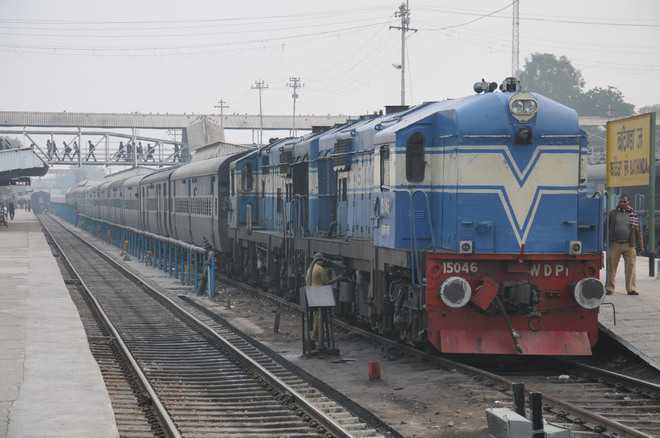 Kuldip Bhatia
Ludhiana, October 20
After providing connectivity from New Delhi and Ludhiana to Sultanpur Lodhi earlier this month through 22479/80 'Sarbat Da Bhala Express' train, new avatar of New Delhi- Ludhiana Shatabdi running five days a week, Northern Railways have announced yet another special train (with limited run) from New Delhi to Lohian Khas for devotees, who intend to visit the holy place for the celebrations of the 550th birth anniversary of Guru Nanak Dev.
According to Railway officials, the special train 04627/28 would run for five days a week (except Tuesday and Saturday) from Sunday (October 20) to December 20 between New Delhi and Lohian Khas with stoppages at Ambala Cantt, Ludhiana and Phillaur.
The 04627 train would depart from New Delhi at 4.40 am and reach Lohian Khas at 11.30 am the same day with 10 minute stoppage (9.55 am to 10.05 am in Ludhiana. The 04638 train would start its return journey at 4.35 pm from Lohian Khas and reach New Delhi at 11.45 pm with a 10 minute halt from 6.15 pm to 6.25 pm in Ludhiana.
The train would have AC chair car and chair car accommodation. Railways said as many as 14 pairs of special trains would cope with heavy rush of pilgrims during the 550th birth anniversary celebrations of the first Sikh guru.
Top Stories