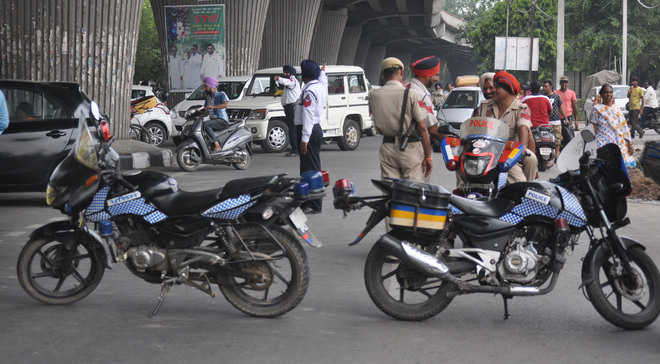 Tribune News Service
Ludhiana, July 16
It was a chaotic situation in several areas of the city as protesters, who were demanding the arrest of pastor Sultan Masih's killers, blocked traffic. The roads leading to Salem Tabri had been blocked for about three hours and the entire traffic had to be diverted to other areas. Residents of not only Jalandhar bypass and Salem Tabri areas but also Domoria Bridge, Old Courts Road and Kailash Chowk bore the brunt of the multiple protests.
Huge traffic jams were witnessed near Pavilion Mall, Old Court Road, Kailash Chowk, Domoria Bridge, near Chand Cinema from where traffic was diverted by the police.
Nitish Kumar, a resident, said he had to come towards Clock Tower from Field Ganj but near Jagraon Bridge, too, there was a jam and he had to drive through Club Road to reach Kailash Chowk. "It was so irritating as it took me approximately one hour to reach my home. The protests are okay, but the residents should not be harassed," he said.
The protesters removed road blocks after getting assurance from senior officials. AB Fedrick, one of the protesters, said it was too bad that a pastor had been killed and we couldn't do anything. "This is an inhuman and barbaric incident, which has shattered all. The assailants should be hanged till death," the protester said.
CPI expresses concern
Expressing serious concern over the killings of religious leaders, the Communist Party of India has condemned the murder of Pastor Sultan Masih at Salem Tabri. Party leaders Kartar Singh Bowani, Dr Arun Mitra, DP Maur, Ramesh Rattan and Gurnam Sidhu have demanded a thorough investigation into the motive behind this murder. Law and order situation has dropped to the lowest ebb, said the leaders. Increasing incidents of murders of several leaders is a cause of serious concern and reflects failure of the police and intelligence. Immediate steps need to be taken to restore law and order and arrest the culprits, said Dr Arun Mitra.