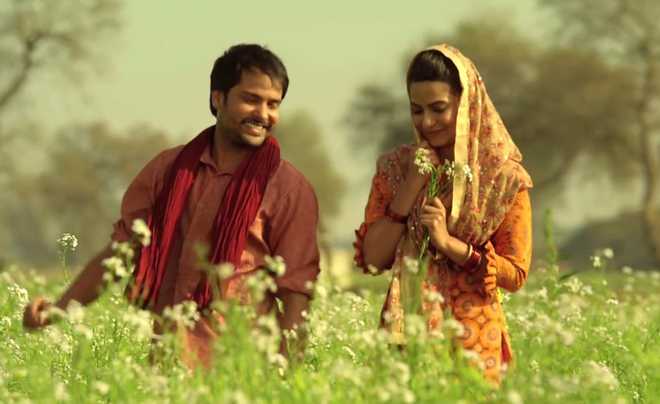 Jasmine Singh
Come fall in love…the tagline of Hindi film Dil Toh Pagal Hai made just about every young heart flutter. Now, it is Punjabi film Angrej, which is doing the same, without the tagline of course!
Set in pre-Independence era, Angrej can rightly be called as an innocent love story, with measured seasoning of drama and laughter.
Angrej, directed by Simerjit Singh and penned down by Amberdeep, who has also written the screenplay and dialogues of the film, is a cheerful reminder of love in the old times when a boy would fear asking out the girl he loved, forget about holding hands. Director Simerjit has justified every bit of the story written by Amberdeep. But what catches your attention is the detailing done to the tee. The sets, the props, the dresses and dialect, everything reminds you of the old times, which probably you have heard or seen. And without any exaggeration! The dialogues of the film are another high-point. Amberdeep ensures you laugh like a child, cry like a child and fall in love like you have just turned a child!
Angrej establishes a rapport with you right from the word go and not once does it lose momentum. There isn't a single drab moment in the film. The emotions are in check, the songs find a meaningful place and most of all the laughter is in check.
Now for the Angrej, the 'Geyja' of the film, Amrinder Gill. The actor has grown in leaps and bounds, which he has already proved in his the film Goreyan Nu Daffa Karo. In Angrej, Amrinder again proves credentials. His subtle yet naive character makes you fall in love with this Angrej-'Ruh Toh'! Amrinder is not an actor who will evoke laughter from loud dialogues, but his innocent face and dialogue delivery will leave you in splits. If we are talking about laughter, Binnu Dhillon is a must mention. Thankfully, he hasn't been given motor-speed comedy dialogues and has been used judiciously. Binnu is simply fabulous in his character as Aslam.
Angrej is not hero-centric; every single character fits the bill. Each one delivers a great performance. Anita Devgan, who plays Amrinder's mother, is loveable and absolutely fantastic. The same can be said about Sardar Sohi as well, who is brilliant.
Moving to the debutants, both Sargun Mehta and Aditi Sharma fit into their respective roles like these were written only for them! Considering it is a debut film of both the actresses, they deserve three cheers. Sargun portrays a strong yet loving role.
Angrej is also the ground for singer Ammy Virk, who opens his innings here. If it were just looks, the singer gets a five on five; as far as dialogue delivery goes, there is more work that needs to be done. All the same, he makes his character look and sound real.
With everything going in flow, the songs of the film are also brilliant. The song 'kurta' is peppy, traditional and hummable, along with all the others. Angrej is definitely an old-time love story sewn together with precision…totally Ruh ton!
jasmine@tribunemail.com