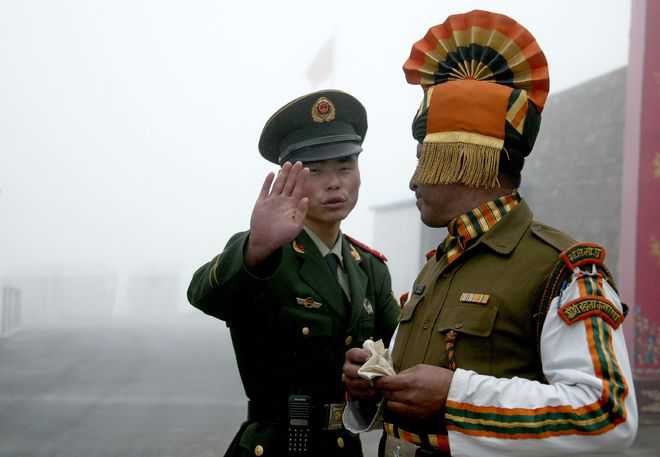 Ajay Banerjee
Tribune News Service
New Delhi, July 19
An internal assessment by the Indian security establishment says there has been no 'unusual' military movement from China's armed forces in Tibet during the past two months.
Nothing that China has done militarily is unusual or could be counted as a 'red flag' to observers of the People Liberation Army (PLA).
The videos of troop movements being telecast by Indian news channels are more than a month old and were part of an exercise done by the PLA mobile unit in Tibet on June 10. Also, the reports of China's 'massive' mobilisation are misplaced. Since 2009, the PLA has been conducting an annual exercise to rapidly move a mass of troops and logistics across military regions.
From an Indian perspective, the 'red flag' is the military point of view when a large body of PLA troops crosses over any of the 11 bridges across the Tsangpo River — known as the Brahmaputra in India. It originates at a 17,050 feet high glacier near the Kailash Mansarovar (north of Uttarakhand). It travels 1,100 km eastwards across the Tibetan plateau before taking a sharp southwards turn near the 25,547 feet high Nanjagbarwa Peak to enter Arunachal Pradesh for its destination into the Bay of Bengal. Militarily, the two sides are more or less evenly matched. China's newly carved out Western Theatre is tasked all along the 3,488 km Line of Actual Control (LAC). It has 15-16 divisions, each having 12,000 to 14,000 troops.
It has five operational airfields in its area and another 4-5 more landing strips that cannot support operations due to lack of logistics and repair facilities. In Xinjiang — north of Jammu and Kashmir also a part of PLA's Western Command — the PLA has 4-5 divisions that are dual tasked. For, one they look after the China Pakistan Economic Corridor in the Muslim-dominated Xinjiang and also are mandated to swing south-east across the Aksai Chin plateau to face eastern Ladakh.
On the Indian side, 13-14 divisions face China. However, the advantage is that India occupies the heights on the Himalayas, while China stations its troops at some distance. A movement for war will give an advance warning. The other advantage is that more than a dozen Indian Airfields are less than 10 minutes flying time away from Tibet. These include Leh, Pathankot, Adampur, Ambala, Chandigarh, Sarsawa and Bareilly in the north.
And in the East, this would include Passighat, Hashimara, Tezpur and Bagdogra. Barring Leh (11,000 feet) all Indian bases are in the plains whereas the ones in Tibet are all above 12,000 feet high, severely restricting the ability of fighter jet to take off with full weapon package.
---
Work together for peace, US tells India and China
India and China should work together to come up with 'some better sort of arrangement' for peace, the US said on Wednesday, expressing concern over the standoff between their troops in the Sikkim sector
"I know that the US is concerned about the ongoing situation there… We believe that both parties, both sides should work together to try to come up with some better sort of arrangement for peace," State Department spokesperson Heather Nauert said
Chinese and Indian soldiers have been locked in a faceoff in Doklam for over a month after Indian troops stopped the Chinese from building a road in the disputed area

PTI