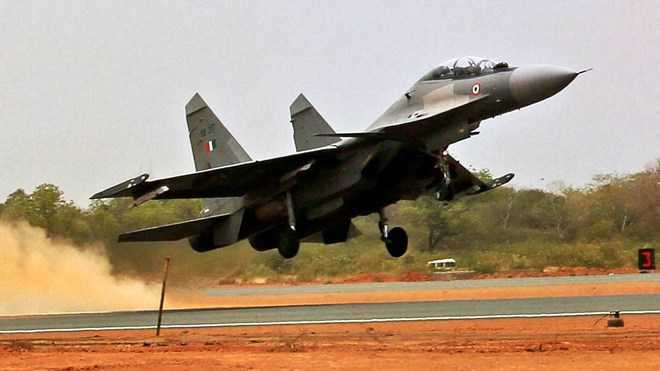 Vijay Mohan
Tribune News Service
Chandigarh, May 9
While contacts for two additional airborne warning and control systems (AWACS) and a replacement of the C-130 that crashed are expected to be signed this fiscal, some key IAF procurements such as fighter aircraft, aerial refullers, and helicopters, and upgrade projects are likely to roll over to the next year due to paucity of funds.
Parliament's Standing Committee of Defence, in its latest report, has listed out 10 contracts worth over Rs 6,728 crore that are unlikely to be signed this year. This includes procurement of 56 new aircraft to replace the ageing Avro transporter, 48 medium-lift helicopters, six mid-air refuelling tankers, 20 Hawk advance jet trainers and 38 Pilatus basic trainers.
The Indian Air Force's wait for the much-needed KA-226 reconnaissance and surveillance helicopters, long-range surface-to-air missiles, engines for the Jaguar fighter, electronic warfare suite for the MiG 29 and avionics upgrade for IL-76/78 has also lengthened.
For the Rafale fighter jets, the procurement of which has been hanging for about a decade, a separate proposal will be moved for additional funds in 2016-17 to procure the 36 aircraft after details regarding cost and delivery timelines are finalised, the committee observed.
Among the eight contracts, valued at Rs 2,039 crore, that would hopefully be signed this year are AWACS, a C-130 special missions aircraft, 14 Akash anti-aircraft missile units, upgrade for medium helicopters, precision-guided munitions, recce pods for Su-30, armament suite for Dhruvs and radio sets.
This fiscal, the IAF is facing a shortfall of Rs 7,748 crore in its capital budget and of Rs 2,769 crore in revenue budget. The shortfall in capital allocations will slow down modernisation, delay induction of important capabilities, erode IAF's superiority and result in asymmetry in capability with respect to envisaged threat perception and flight safety
The lower revenue allocation will impact procurement of spares and fuel, affect serviceability, and lead to shortfall in training, resulting in compromise of operational preparedness and expenditure for disaster relief operations.
Top News
Dhindsa was going to office when about 12 to 15 people came ...
Country continues to record an average of over 15,000 corona...