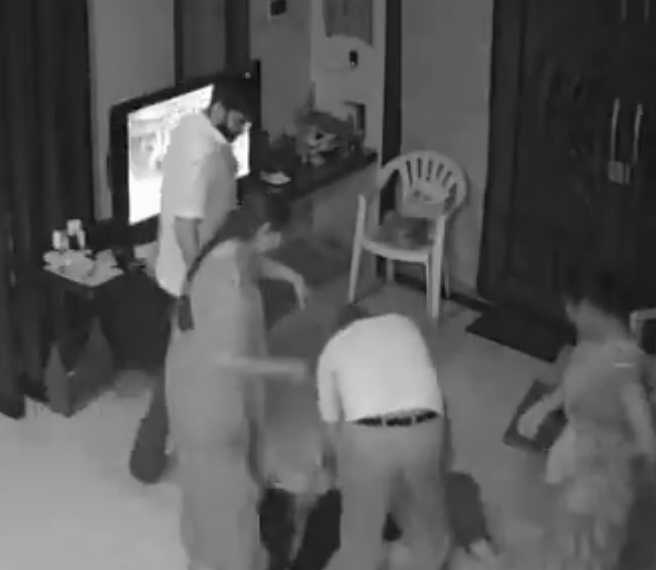 Tribune Web Desk
Chandigarh, September 21
A retired High court judge in Andhra Pradesh finds himself in the middle of a controversy following a video that has emerged showing him and his family members allegedly assaulting the daughter-in-law in presence of her children.
The CCTV footage apparently dates back to April 20 but was shared on Thursday on the social media and within hours went viral. The retired judge Nooty Ramamohana Rao and his son, Nooty Vashishta, are reportedly seen in the footage roughing up 30-year-old Sindhu Sharma even as one of her child tries desperately to rescue her. The family has denied the allegations.
In the clip, Vashishta was seen allegedly assaulting his wife after an argument in their living room and Rao was dragging Sharma to the couch as Vashishta pushed her and both hit her repeatedly
Sindhu tries to leave but is dragged back to the couch and assaulted again.
Meanwhile, Sindhu approached the Central Crime Station in Hyderabad and alleged that she had been a victim of domestic abuse since last four years and her husband had been making demands for dowry.
Back in April, Sindhu managed to get out of the house. She protested in front of their residence, demanding that the kids to be handed over to her.
A habeas corpus petition helped her gain custody of her kids.
However, the dowry harassment case took a turn after the CCTV footage was released by Sindhu.
"It is a nightmare I can never forget. These videos are from April before I managed to get out of the house. They hit me in places I cannot tell you." Sindhu Sharma told News18.
"I was sleeping in my room. He barged in and started attacking me. All this – for him not being promoted at work. What do I have to do with his promotion? My mother-in law was instigating him," said Sindhu.
But the family of the retired judge has denied the allegations. According to NDTV, the family has countered Sidhu's account in an affidavit filed in court recently. According to them, on the night of the altercation, Sindhu had attempted to kill herself—the second such attempt in six weeks. That is why they pulled and tried to restrain her, they said.
Extremely disturbing CCTV visuals of happenings inside home of former HC judge Nooty Ramamohana Rao in April; Rao & son seen physically handling & restraining daughter-in-law Sindhu Sharma while two little grandchildren try to intervene; maid, apparently summoned, walks in @ndtv pic.twitter.com/JtfgwDvEtd

— Uma Sudhir (@umasudhir) September 20, 2019
Did u miss the small child coming in and trying to save his mother.......none of the 3 were bothered to have a look and hear the cries of this child.

— DB🇮🇳 (@DhBeri) September 20, 2019
Those close to former judge's family told @ndtv daughter-in-law #SindhuSharma was verbally abusive, disrespectful towards husband & inlaws, & given to vicious story-telling; she would blackmail husband & inlaws to separate, using her children as blackmailing tools, they allege

— Uma Sudhir (@umasudhir) September 20, 2019
Just see the little baby trying to protect the mother. This is heartbreaking.

— The Road to Serfdom (@quark_time) September 20, 2019
Top Stories