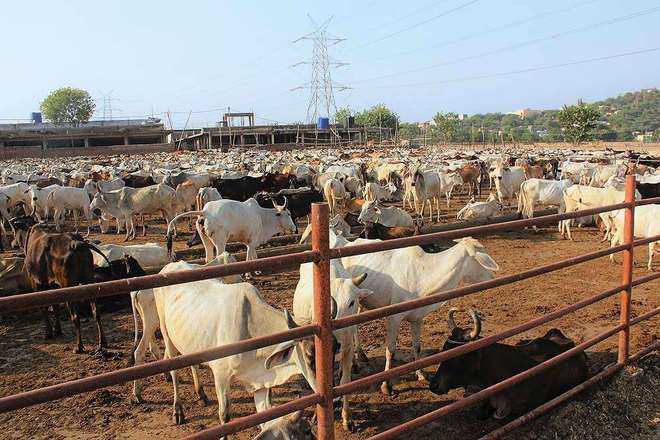 Vishav Bharti
Tribune News Service
Chandigarh, December 25
Punjab may have been mortgaging widow homes and jails to keep its business running, but when it comes to the "holy cow", there seems to be no strings attached to its purse. While the government has already spent crores of rupees on the welfare of the animal in the state, it has even bigger plans for the future.
The government is set to come up with a cow memorial in Mansa district at a cost of Rs 5 crore, making it the most expensive memorial to any animal in the country. The work on the memorial, spread across 3 acres, is slated to begin in January.
Chief Minister Parkash Singh Badal had announced the construction of a memorial to cows following the discovery of carcasses in a mill at Joga village, leading to "communal tension" in June 2012.
The Punjab Gau-Sewa Commission says the government will spend Rs 5 crore on the "Rashtriya Shaheedi Gau Smarak". A sum of Rs 2 crore has already been released to the Mansa Deputy Commissioner.
Commission chairman Keemti Bhagat counts it as an achievement that the "smarak" (memorial) will be the most expensive one to be built in the memory of any single species of animal in the country. "This is the first-of-its-kind memorial in the country. We are proud of it," he says.
The government has also started the process of setting up "gaushalas" (cow shelters) across 22 districts of the state.
Bhagat says pieces of land, varying from 15 to 25 acres, have already been procured for these shelters. "A sum of Rs 1 crore will be spent on the construction of each of the 22 cow shelters and Rs 43 lakh has already been released to each district," says Bhagat.
The state Cabinet has also extended facility of free electricity and water to 472 private "gaushalas". "The decision will help save Rs 2 crore for the shelters," says Bhagat.
Last month, the Cabinet had given up to Rs 5 lakh per year exemption on VAT on the construction material used for new "gaushalas". Another VAT exemption of up to Rs 3 lakh per year per gaushala on consumables had also been given. The commission is also spending Rs 40 lakh annually to run the business. But the doles don't stop there. The Punjab Gau-Sewa Commission has bigger plans for the future. In a letter to the Chief Minister on December 24, the commission chairman has asked for an annual budget of Rs 22 crore.
"Our commission doesn't have any budget. We need at least annual budget of Rs 30 crore," he said. Citing the example of Haryana, he said while they set up the commission on the lines of Punjab, the neighbouring state is providing already the panel an annual budget of Rs 9.4 crore.
Top Stories