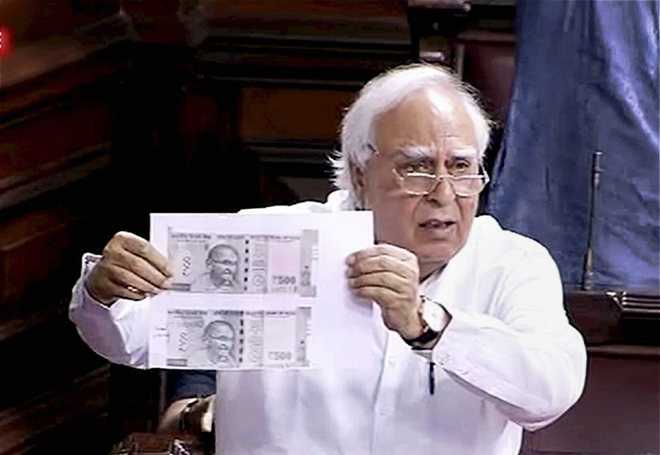 Tribune News Service
New Delhi, August 8
Backed by other Opposition parties, the Congress today did not allow the Rajya Sabha to function over what it called the "biggest scam of this century" in the printing of two different kinds of Rs500 and Rs2,000 notes.
The ruling BJP in turn accused the Congress of "spreading rumours" and "making irresponsible statements", thereby creating doubts over the credibility of the currency. Later, some BJP leaders also linked the Rajya Sabha ruckus to Congress' "frustration over the developments in Gujarat".
The issue was raised on a day several Congress leaders privately maintained that they should have instead expended their energy on a more relevant issue — the Varnika Kundu stalking case, allegedly involving Haryana BJP leader Subhash Barala's son Vikas Barala.
The currency issue was raised by senior Congress leader Kapil Sibal as a point of order. He displayed different sizes of the new high denomination currency, which he alleged were being printed "one for the ruling party (members) and the other for the rest".
"We have today discovered the reason why the government did demonetisation (of old Rs500 and Rs1,000 notes in November last year)," he said. Leader of the Opposition Ghulam Nabi Azad termed it "the biggest scam of this century".
Leader of the House and Finance Minister Arun Jaitley accused the Congress of raising "frivolous" issues without giving notices to stall Zero Hour proceedings. As per Jaitley, there was no provision in the rules that anyone could "flash any paper and say it is point of order".
"There is a misuse of Zero Hour which is going on," he said. "There is no such provision that you can flash any paper at any time and say it is a point of order. There are rules under which you give notice. You start raising issues with regard to the currency of the country in this manner and such irresponsible statements are made... There is a misuse of Zero Hour going on, and it should not be permitted at all," Jaitley said.
Even as the BJP said they were ready to discuss any issue under proper rules, the Congress managed to keep the House proceedings stalled with the help of parties like TMC, Samajwadi Party and also JD-U joining in as members of a parliamentary delegation from Mexico watched from the special box.
Opposition leaders, including JD-U's Sharad Yadav and TMC's Derek O'Brien displayed different types of new Rs500 notes. Yadav said no country in the world had two notes of different sizes. "One is bigger, another is smaller. I can give signed (copies of the notes) issued after demonetisation to show the different sizes," he added.
Law Minister Ravi Shankar Prasad asked Opposition members to explain where they got the currency notes from. "Sir, we are fully ready. Let them give notice. Let them debate. We will give them a reply... and also expose them. The Narendra Modi government is acting in a completely honest manner. Let them come for a debate. We are ready for any debate," Prasad said.