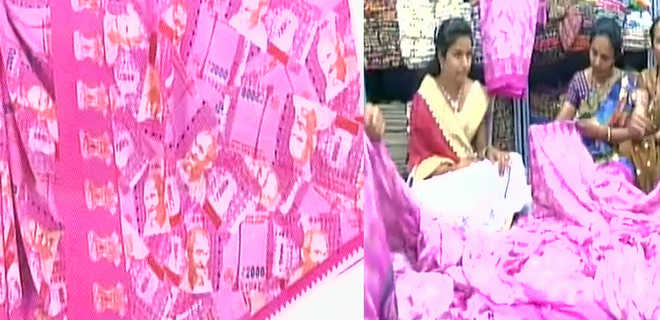 Surat, January 11
Post demonetisation, several stories related to it have come to light, varying from colleges organising fashion shows to support the currency ban, to villages going cashless.
In a similar development, a cloth trader in the city has got a new design of sari made, with the print of the newly introduced pink-coloured Rs 2,000 note.
(Follow The Tribune on Facebook; and Twitter @thetribunechd)
Women can now clad themselves in the new currency note by wearing this sari.
Being six metre in length, each sari has print of 504 notes and costs Rs 160.
Trader Shiv Shaini came up with the idea as he wanted to try something new.
"Rs 2,000 note is new in India. A few days back, a sari with Modiji's face was also launched. So, we thought of coming up with this sari. The reason was to try something new."
Saini said the demand for the sari is more in the five poll-bound states--Uttar Pradesh, Manipur, Punjab, Goa and Uttarakhand.
Demonetisation, whether accepted or not, the people of India have fully utilised this announcement for their business and benefit. ANI
Top Stories