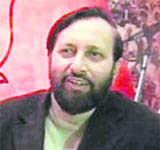 New Delhi, March 15
Around 32 years after the Bhopal Gas tragedy that claimed thousands of lives, the Centre today said nearly 350 tonnes of hazardous waste was "safely secured" on the factory premises of Union Carbide India Limited (UCIL).
"Approximately 346 tonnes of hazardous waste is safely secured and kept on the factory premises of UCIL, Bhopal. The waste is segregated into four categories that are sevin residue and naphthol residue (95 tonnes), reactor residue (30 tonnes), semi-processed pesticide (56 tonne) and excavated waste or contaminated soil (165 tonnes)," Union Environment Minister Prakash Javadekar said in a written reply in the Lok Sabha.
He was replying to a question whether toxic waste after the tragedy was still lying at the UCIL factory.
He said in line with the approved plan of the government, the Madhya Pradesh Government was responsible for the safe disposal of the waste while the Supreme Court monitored the disposal of the waste and remediation of the site.
"In pursuance of the orders of the Supreme Court in April 2014, the ministry authorised the Central Pollution Control Board (CPCB) to incinerate 10 tonne UCIL waste at treatment, storage and disposal facility during August 2015. — PTI