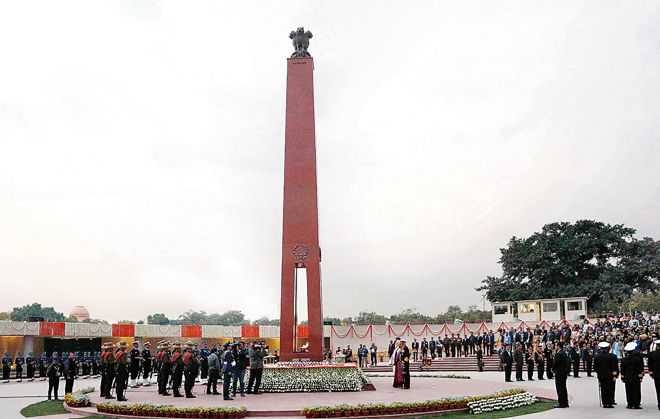 Lt Gen KJ Singh (retd)
Lt Gen KJ Singh (retd)
Military commentator
The dedication of the National War Memorial (NWM) on February 25 this year is indeed a defining moment in honouring our bravehearts. The government has fulfilled a long-pending demand by building a world-class monument. Unfortunately, people visiting the NWM and the adjoining India Gate memorial fail to display due reverence and discipline.
There are other notes of dissonance, like the Army deciding to limit representation at remembrance ceremonies outside military cantonments/stations. The ever-increasing number of monuments, including the Saragarhi memorial, is literally gasping for funds for maintenance. It is ironic to reconcile the sight of spontaneous mile-long funeral processions of war heroes with decrepit memorials in utter neglect.
Recent media reports regarding the Army limiting its participation to floral tributes and, more importantly, not providing ceremonials like band and honour guard, have to be understood objectively and in context.
First, there are no pan-India orders. Instructions seem to be local or regional in scope. Secondly, these have been necessitated due to the problem of sheer numbers because of the proliferation of individual memorials and the inability to cope.
The Army, as a policy, discourages unregulated building of memorials. The official compendium of works, referred to as the 'Scales of accommodations', does not even include memorials and museums. Hence, technically, all such structures come under the scrutiny of auditors and are camouflaged under other listed works.
With considerable risk-taking, enterprising commanders have created memorials as a combination of recognised works like band stands and sentry and guard posts. Similarly, stores have been re-appropriated for utilisation as museums.
The Western Command commissioned its museum after losing valuable archival material nearly 70 years after its raising. It is indeed unfortunate that the system lacks simple provisions for authorising memorials and museums, preferably at the recommended scale of one per station, more like the station institutes. This is indeed an opportune moment, when the government has made good its promise of the NWM and the RM has commissioned a signature project to write the history of border areas. A simple amendment will change the construction and maintenance of war memorials and museums into activities that are above board, for future generations.
The real challenge, however, lies outside the military establishments. There are three types of memorials — combined, individual and commemorative — for battles. Haryana, with a designated state-level war memorial at Rohtak and district memorials, is probably the best organised with regard to combined memorials. Many of these also have museums as an extension.
Ideally, individual war memorials should be avoided as these get neglected due to lack of institutionalised funding. Yet, they are being allowed to come up in native villages and towns, often for vote bank and emotional considerations. Even in the families of martyrs, the euphoria ebbs with time.
It is indeed sad to see different groups of a splintered family, jostling for prominence during the ceremonials. Haryana recently took the laudable initiative of laying down the standard operating procedure (SOP) for annual functions and upkeep of these individual memorials. These are to be managed by committees under the deputy commissioner, with the superintendent of police, Zila Sainik Board, the nearest station headquarters and the NCC unit, as members. Most importantly, the unit of the war hero has also been coopted. The real challenge lies in implementing and operationalising this SOP.
Another worrying trend is the installation of statues and busts. This ill-advised trend has obvious pitfalls as the final product rarely does justice to the braveheart due to limited funding and skill-deficit of sculptors. A better method is to name schools, roads and colonies after such heroes. The housing colonies of the armed forces follow this norm of naming, but recently, they too have started falling prey to the statue mania.
Unfortunately, most statues are exposed to the natural elements and require regular maintenance. A simple electronic display board would have a better connect with a war hero and also impose minimum maintenance requirements.
The third category of memorials is those commemorating battles, like Asal Uttar near Khemkaran. Commemorative memorials like the one at Dograi (Khasa) and Saragarhi (Ferozepur) are better looked after as they are situated in military stations and cantonments.
The memorial at Khemkaran, situated close to the actual battle site, doesn't enjoy this advantage. A number of small unit memorials with the main one of Abdul Hamid were in a state of utter neglect. It took a herculean effort and persuasion to combine them with the main memorial. Similarly, yearnings for individual unit memorials had to be imaginatively synergised to make a combined memorial at Hussainiwala.
Punjab has a large number of war museums, but with very poor footfall. The sad part is that each government wants to make new ones like the museum at Amritsar. In view of the limited budget, old ones like the Ludhiana museum have become completely neglected. An imaginative battlefield tourism package from Attari to Hussainiwala (Ferozepur) border, with museums and memorials en route, can be introduced for military history enthusiasts.
The way forward lies in limiting the unchecked proliferation of individual memorials. The Central government should build a consensus for a national policy backed with legislation to regulate the memorials. A census of the existing ones should be attempted, with emphasis on consolidating and combining them. The management should be regulated by notified bodies, backed by assured funding, through the creation of a corpus on the lines of the Commonwealth War Graves Commission, which looks after Kohima and other memorials in a most enviable manner.
Memorials are configured to have a restricted serene core, but interest levels can be enhanced by incorporating interactive digital screens, with the relevant content on the periphery. Digital kiosks, e-visitor books and e-memorials should be incorporated to connect with the millennial generation.