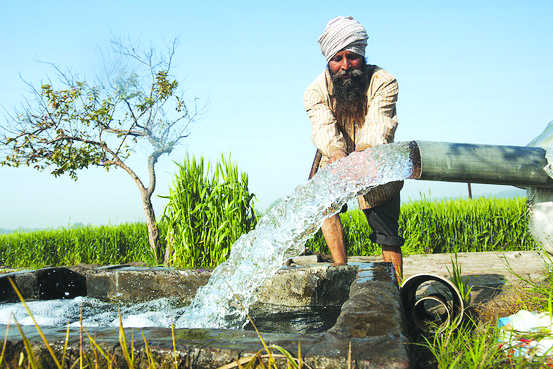 Ruchika M Khanna
Tribune News Service
Chandigarh, February 28
Having chided the Punjab Government repeatedly for giving Rs 7,700-crore free power to farmers, the Centre wants the state to end the freebie for all agricultural consumers and instead transfer the subsidy into the beneficiaries' bank accounts.
This was conveyed to a delegation of the state government, summoned by officials of the Ministry of Agriculture and the NITI Aayog, in New Delhi yesterday. Members of the Ramesh Chand Committee, formed by the Aayog, are learnt to have told Punjab that they propose to club all agricultural subsidies given by the Centre (on seeds, fertilisers, machinery, crop insurance) and the state government (power subsidy and crop loan waiver) so that the same can be given to the farmers through the Direct Benefit Transfer (DBT).
Representatives of Gujarat, Madhya Pradesh and Telangana had also been called for the meeting. It is proposed that the farmers will buy implements and seeds and pay for power, so that the subsidy can be deposited into their bank accounts.
The DBT will ensure that only deserving farmers get the benefit. Sources said they informed the officials in Delhi that they had already started a pilot project of giving cashback on the power that farmers save while operating tubewell connections in six feeders of Fatehgarh Sahib, Nakodar, Mukerian and Jalandhar (involving 990 agricultural consumers).
Under this scheme, DBT of the cost of power saved will be made into farmers' bank accounts. Their connections are being metered.
In Punjab, doing away with free power and giving subsidy through DBT can have political ramifications. This year, the power subsidy to the agricultural sector is to the tune of Rs 7,700 crore. This sector accounts for almost 30 per cent of the power consumed in the state. Farmer organisations, supported by Opposition parties, have been protesting against the pilot project, saying that it is the first step towards doing away with power subsidy.
Studies have shown that 81.52 per cent of free power in the state goes to the large and medium farmers, while just 18.48 per cent small and marginal farmers get this benefit.